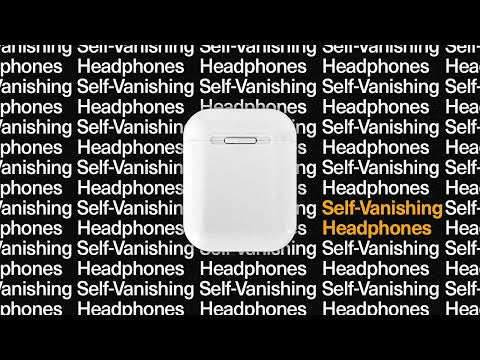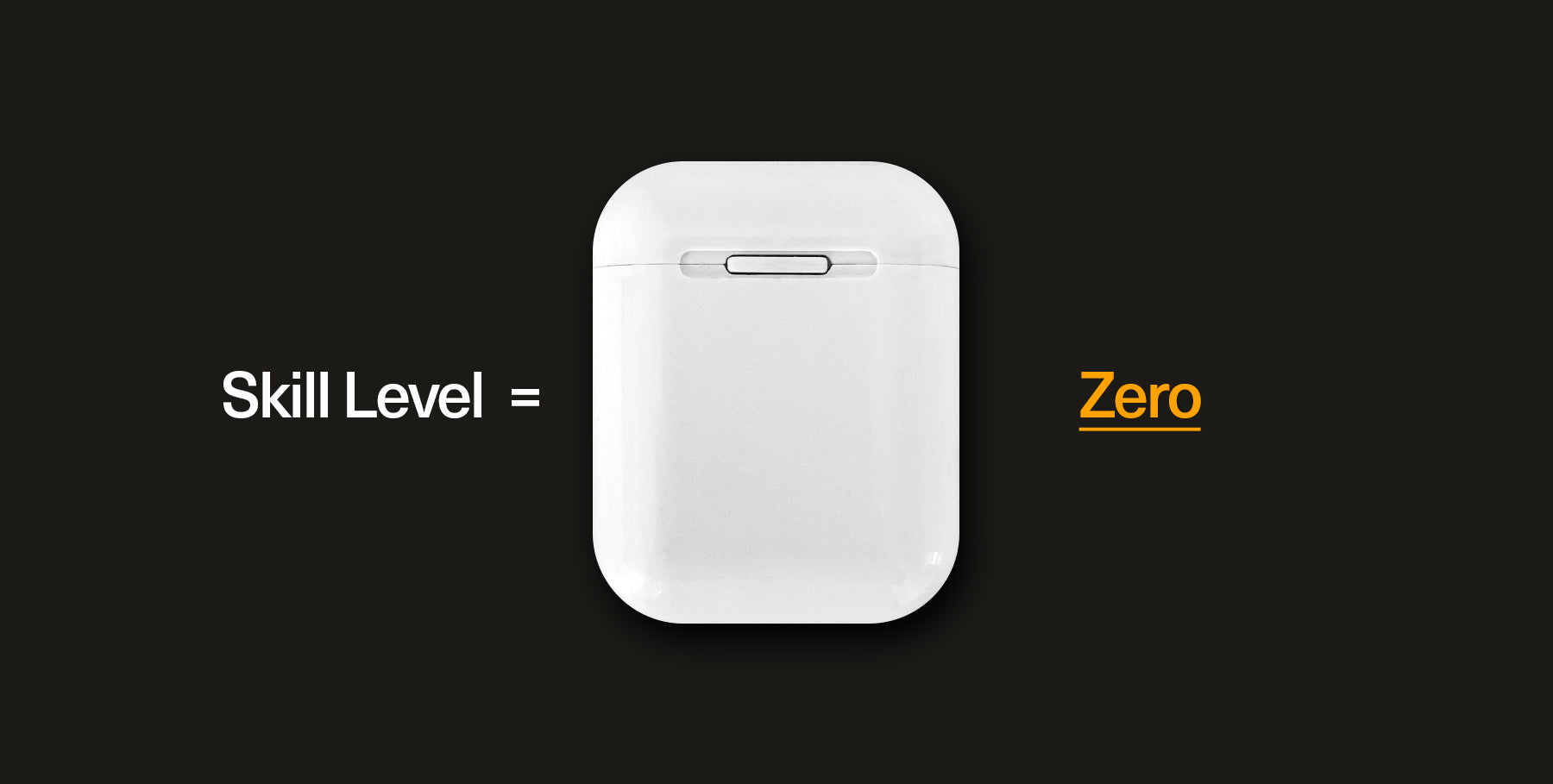 Self Vanishing Headphones
It could not be easier. Show they're inside. Close it.
Have your spectator open it. They're GONE. Vanished... The case is empty.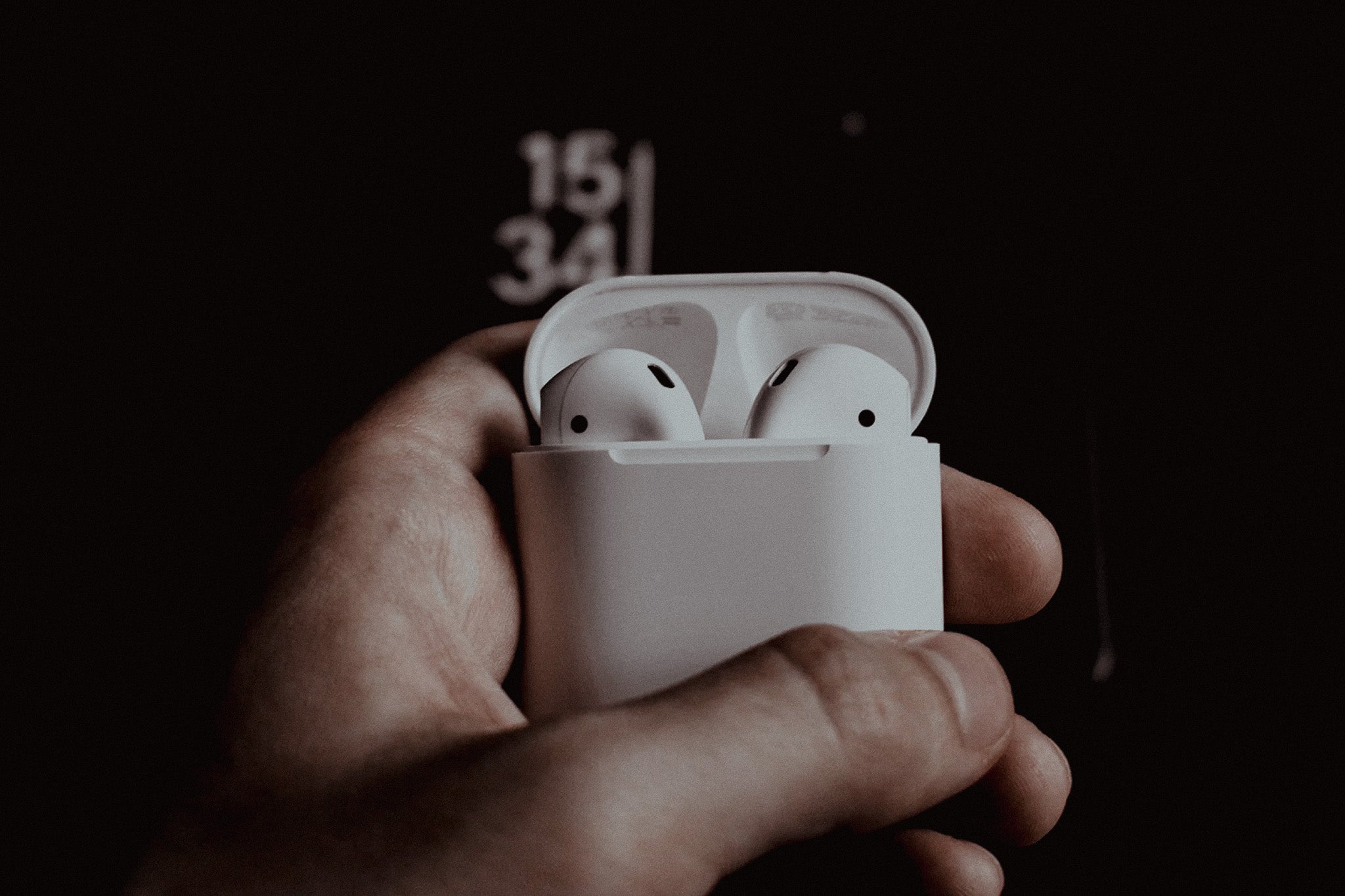 Almost every magic kit on earth has the famous ball and vase gimmick inside. But if you take that to the street you'll be laughed at. 

This new gimmick takes that bullet-proof method and applies it to something we've all seen and used... "Airpods". 
It could not be easier. Show they're inside. Close it.

Have your spectator open it. They're GONE. Vanished... The case is empty. 
Skill level = zero. It cannot fail.   
---
From Brad Christian...
Every kid has a Ball and Vase. Some of us still do.

I did it for my 1st-grade class when I was 6 for "show and tell" and killed with it. They mobbed me after the show and found out how I did it but that's another story lol.

The principle behind the ball and vase is one of the most effective in the art of illusion and is still used in stage shows every day.

The problem with the effect is the following. A "highly suspect" bright red plastic "vehicle" to hold the bright blue plastic ball that then disappears. As such, it's a kid's trick and nothing more.


Let's face it, there's nothing natural about the old version and it STILL amazed everyone I did it for. What IS natural is a pair of Airpods that almost everyone uses daily. No one suspects the item and it flies under the radar 100% of the time.

And so we created the effect with plain white headphones. As natural as it gets and as GOOD as it gets. Self-working, brilliant for Zoom shows, and more brilliant performed in person.

Taught on video by both Eric Jones and Ryan Tricks (included), both of whom won't leave home without it, the effect is a bonafide winner and can be woven into any routine for lightning reactions. Get it.
- Brad
---
STUDIO PERFORMANCE WITH ERIC JONES
Credit: Original idea by Lloyd Barnes for Ellusionist in early 2020. 
This product is rated 4.7 of 5.0 stars.
It has received 48 reviews.
Great Response!
Just Used the earbuds for the first time at a block party performance. The girl I did the trick with was stunned and literally said 'what just happened?' It was great!
Very clever
There are legitimately endless possibilities once you know how it works. I tip my hat. Great little trick to while going for a walk
Good magic and customer service
You folks never let me down!
Simple, Easy to use, self working
The best thing about this gimmick is that it is easy to use and requires no setup. Basically self working!
Amazing
Good quality! I love this trick. It's simple and amazing!
I take Self Vanishing Headphones with me every time. I recommend SVH for everyone magician who love surprise people!
Works beautifully!
Performed this with a borrowed pair of AirPods. The look on the spectator's face was priceless, it actually took her a few seconds to process what just happened. After I returned them to her she spent a good thirty seconds staring at them trying to figure out how I did it.
What an amazing trick
I could perform this trick immediately after opening the box, the box is nice too, I showed my family the trick and my dad said it was one of his favorite tricks I ever performed, the video provided taught everything very will, I would recommend buying
A working trick that works by itself!
I don't want you to buy this. I want to keep it for myself. It is that good. I've been using SELF VANISHING HEADPHONES every weekend at my gigs for about a year now. This is a working trick that works by itself. All you have to do is open the case. Of course there is one other thing/ pair of things you have to buy on your own. But, even without them it's still a magical piece of art. Get it today!
A Worker- You'll Use It
For tables and strolling this is a quick bit of magic than can be expanded upon to lengthen your routine. I'm getting great reactions from adults, teens and children.
Richard Gosselin provided a great idea. Drill the holes out to 1/4 size. Then you can use real ear buds for a vanish of your choosing.
Or you can do as Brian G Bence did and buy cheap knock offs. Also another reviewer noted they bought a case. Which is perfect because everybody with expensive ear buds does exactly that. No need to worry about the charging port, the case not looking exactly perfect when you have a case on.
Easy to use, gets nice reactions and pocket space is minimal. Plus it's something that doesn't look like a magic prop.
On the down side the gimmick part has a little more play in it than I prefer. My concern is it failing in the long term. I got mine on the 40% off sale and would buy another to expand the routine for that price again.
Bottom line? Drill the holes, add a case, ear buds to vanish and you have a quick bit of magic that has many possibilities to routine. Kudos for updating the ball and vase trick.