The Tyrant
The Ultimate Full-Deck Table Hold-Out...
Enough Said.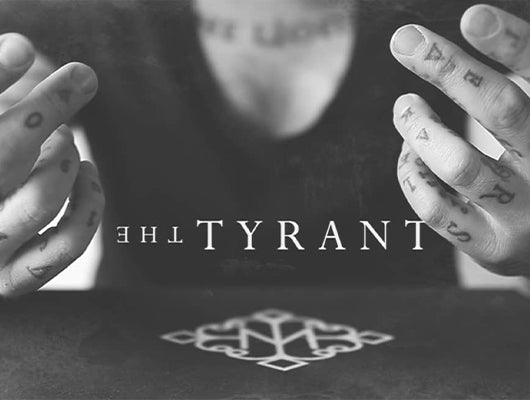 The Ultimate Full-Deck Table Hold-Out...
THE TYRANT is my solution to the 'Table-Advocate'... A full-deck playing-card-index for a table that allows the performer to be secretly within possession of any playing card within a moments notice.
This solution offers the performer an endless myriad of ideas for demonstrations of sleight-of-hand at the card table...
His hands are always in full view and NEVER leave the table, yet he has any card he needs readily awaiting his command.
I am Daniel Madison.
This is Tyrant.




"I can't wait to use TYRANT and oppress my audience's brains with something so impossible and clean. My brain immediately started churning out ideas and routines using this method. Tyrant makes the card Table your b*tch."
Mark Calabrese
"I thought 'The Advocate' was the greatest thing Madison has ever done... I stand corrected"
Chris Ramsay
"Finally a solution to something we've all tried or thought about."
Xavior Spade
"Daniel is a strange dichotomy: both modern and classical. He's able to answer very old and difficult questions in magic with very new and innovative ideas. Tyrant is no exception. He's created a table man's tool that leaves the hands in view the whole time (that fact will be significantly more important when you read the book/see the download). As always, well done!" Jeremy Griffith
"After reading This my mind flooded with ideas of effects and routines that can be performed using The Tyrant. Even after reading the first few pages I found myself smiling at how clever this is. The possibilities are endless. The Tyrant is what I have been waiting for!" Lewis Le Val
Format: Video Download & PDF eBook
Difficulty: Intermediate
Duration: 16 minutes
This product is rated 4.5 of 5.0 stars.
It has received 15 reviews.
brilliant as always
Another hit for D.Madison, it permits to create miracles for the table magic, it's good also for coins small and giant or lightweight object like sponge.
Thank you Daniel
Amazing
This absolutely perfect for the situations it's intended for. Having this available will make any card trick so much simpler. It lets you go straight to the effect and cut out the procedure which leaves you more room for presentations. This device is not an anywhere and anytime type of effect. Instead it fills a particular gap and takes full advantage of such an opportunity.
Clean, great and amazing
The product is very clear and a very nice document with clear instructions and suggestions. Nicely made to be used professionally.
Summary
This thing is Briliant but i'm to lazy to make it..... i don't do tabled magic but i think i might have to now. Daniel is a genius
Summary
Get this now! I love this. I'm defiantly going to use this to produce money as well. You don't just have to use cards! I made a smaller version of this that could fit in my pocket and it was able to produce about 5 bills. Was defiantly a good one to do out at dinner. Love it. Get it.
Summary
Yet another masterpiece by Madison. Simple, yet stunningly elegant.
Summary
Really clever concept, the video just shows how to use the device and a few quick ideas. All in all i think it's worth it.
PS: The index is not as compact as the advocate but way easier to locate cards.
Summary
When I first saw the original trailer on Madison's Vimeo, I have to say I was slightly sceptical and believed it was some kind of camera trickery due to its smoothness, I believed it to be impossible. However, what you witness in the trailer, is exactly what you get. With your hands in full view at all times, you can produce ANY named card within seconds, once in your possession, the possibilities of what you can do are endless. Madison does not offer any ideas for demonstrations within the download which I personally think is fantastic. He has provided you with the perfect tool, a goldmine for impossible demonstrations at the card table. A worthy investment, I would go as far as saying an essential, for anyone interested in table work.
Summary
A must for 'Table-Workers' that provides a wide-array of arsenal right at your very hands. 'The Tyrant' is a combination of Madison's 'The Advocate' & Stanislas' 'T.U.T.
'The Tyrant' blurs the line between Reality and Fantasy. This is a 'Tribute' to the genius that is Stanislas, and Madison has Perfected it.
Summary
After buy this hours ago, in my mind i had a lot idea what I'm going to do with Tyrant. I love this!!!