Unreal Series
The Unreal Series is like a survivalists starter kit for making pure FIRE, but with magic.
Everything within is 100% impromptu and uses a normal deck of cards. You could borrow it, but laymen don't carry decks.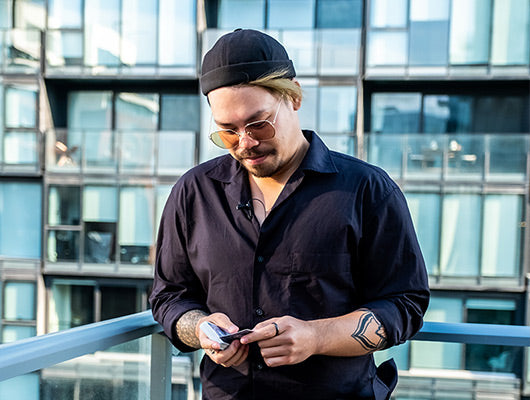 A DEVIOUS CONTROL, INVISIBLE SWITCH & JAW-DROPPING EFFECT
Think Nguyen is on a new wave. <Scratch that>. He's in a new ocean. 
His forte is creating gimmicked-looking magic with pure sleight of hand. 
We originally flew to film one trick with Think, but as the shoot went on and he opened up to us, we HAD to keep it rolling. 
The Unreal Series is like a survivalists starter kit for making pure FIRE, but with magic. 
Everything within is 100% impromptu and uses a normal deck of cards. You could borrow it, but laymen don't carry decks. 
---
TILTED
 #1. TILTED is a control to any position in the deck. 
Summoning the powers of Marlo, Think will teach you the finger positions behind a zero-card displacement top control (try saying that 5 times fast), a palm ready bottom control and a way to have it convincingly placed into any position in the deck. 
Your new go-to control. 
---
FYP SWITCH
#2. FYP SWITCH allows you to switch 4 cards for 4 cards invisibly. "But Ellusionist the 4-for-4 switch does that. Duh." … Yes, but can it do it face up too? No? FYP can! 
Think's decision to create slow, motivated movements here disguises the method and opens up a whole new dimension to your 4 of a kind reveals. 
Insert into your existing routines TODAY. 
---
BUBBLES
#3. BUBBLES is an oil and water effect. STOP! Please don't leave just yet. We know we almost bored you to death with that plot again, but this one is COMPLETELY DIFFERENT. Bubbles is the most original take we've ever seen and the visual ending fizzes to a climax where the red cards & black cards bubble away from each other. 
This routine is worth the full price of the download alone. Using a normal deck and the sleights taught, it could propel you lightyears ahead of where you think you are in magic right now. 
Become UNREAL with a deck of cards. 
Download TODAY. 
This product is rated 5.0 of 5.0 stars.
It has received 2 reviews.
All of the 3 Moves/ Routines are very clever and can be performed in public, although they need a good amount of work before, because they are not the easiest to do. Especially Bubbles will be one of my worker effects because it's so powerful
Kevin
Let me begin by saying this is not for people who are looking for beginner stuff. As an intermediate magician myself, I can firmly say that there is material that is quite difficult including some of Ernest Earick?s work. I mainly bought this download for the FYP switch, which I think is a masterpiece in itself. I believe the price of the download is reasonable and justified and I will now run through each piece of the download.
FYP switch: If I had to describe it in one word, I would have to say: BRILLIANT. The switch is well thought out and Think does credit his version to be his take on another magician?s switch which was very nice of him. Think goes through the details slightly quickly, but most intermediate and advanced magicians should be able to follow along without any trouble. Marlo, Earick, and Kosby/Robinson?s work are a part of the switch. Think then goes over the switch, but done face up. Think also provides variations on how to do the switch in stand up or at a table. Slightly rushed overall, but very good with over the shoulder view.
Tilted: I honestly thought this was going to be the lamest thing on this download, but boy did Think prove me wrong. Once again, Marlo, Earick, and Kosby/Robinson?s are referenced for this move. Simple, but definitely not an easy move to get down. Think also provides a routine you can use with his version of the tilt move.
Bubbles: I?m not a big fan of oil and water, but this routine by Think is pretty cool. Think?s routine only has 2 phases and apply the usage of some basic slights and some set up. The anti-faro and faro are NOT required for this routine, but if you can do them, it certainly adds to the affect. It seems that the ?bubbles? portion of the routine is quite knacky, but comes down to grip strength and practice. Cody and Think then run through the routine with questions and thoughts added in between. Overall, would recommend to those interested in this plot, but did not blow my mind in any way.
Conclusion: This download is a little over 40 minutes worth of amazing material. I think it can help a lot of magicians to think outside the box as well as improve their overall sleight of hand. Definitely was hesitant going in, but definitely love Think?s work! Also, note that Think is LEFT handed so do the opposite if you are right handed.