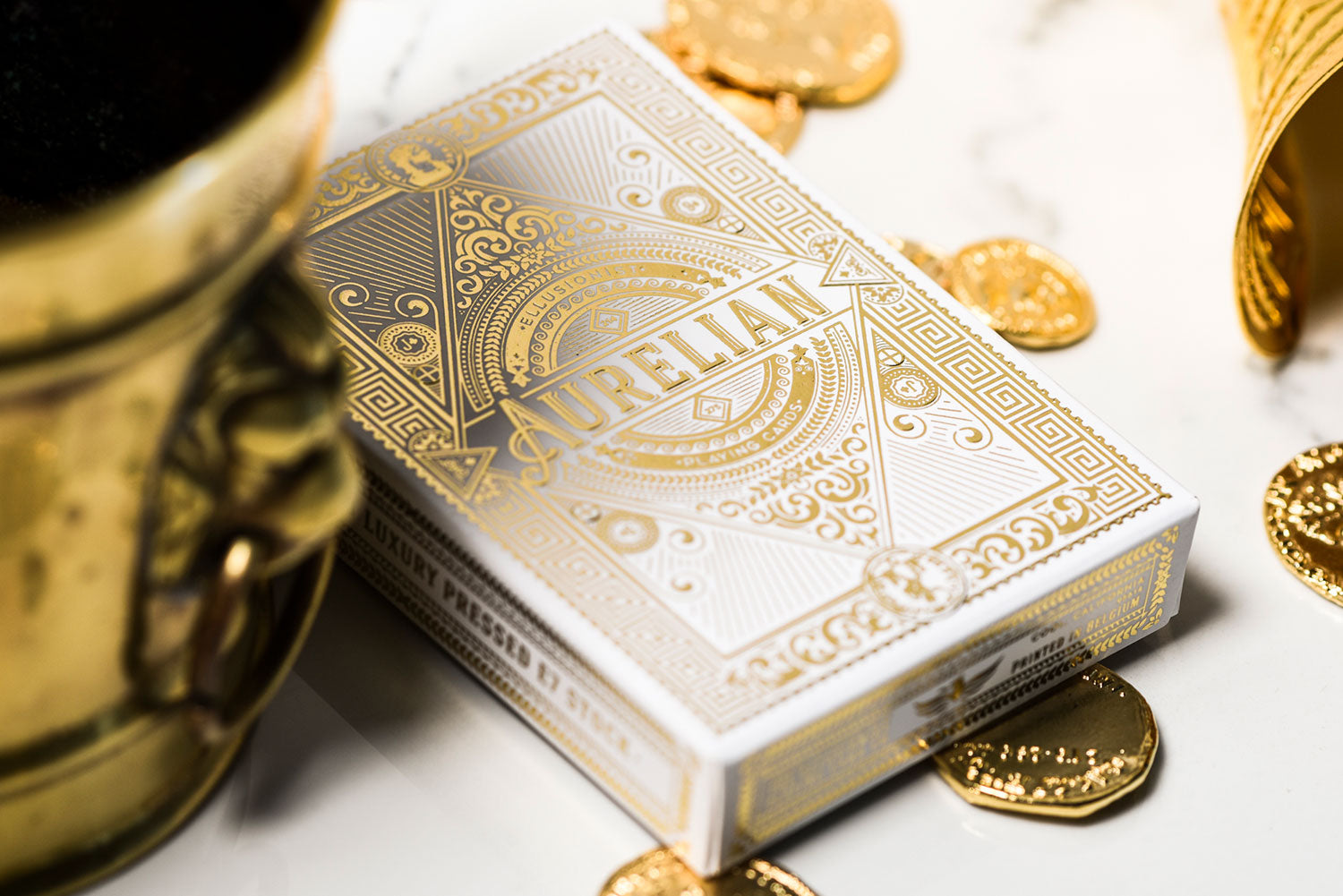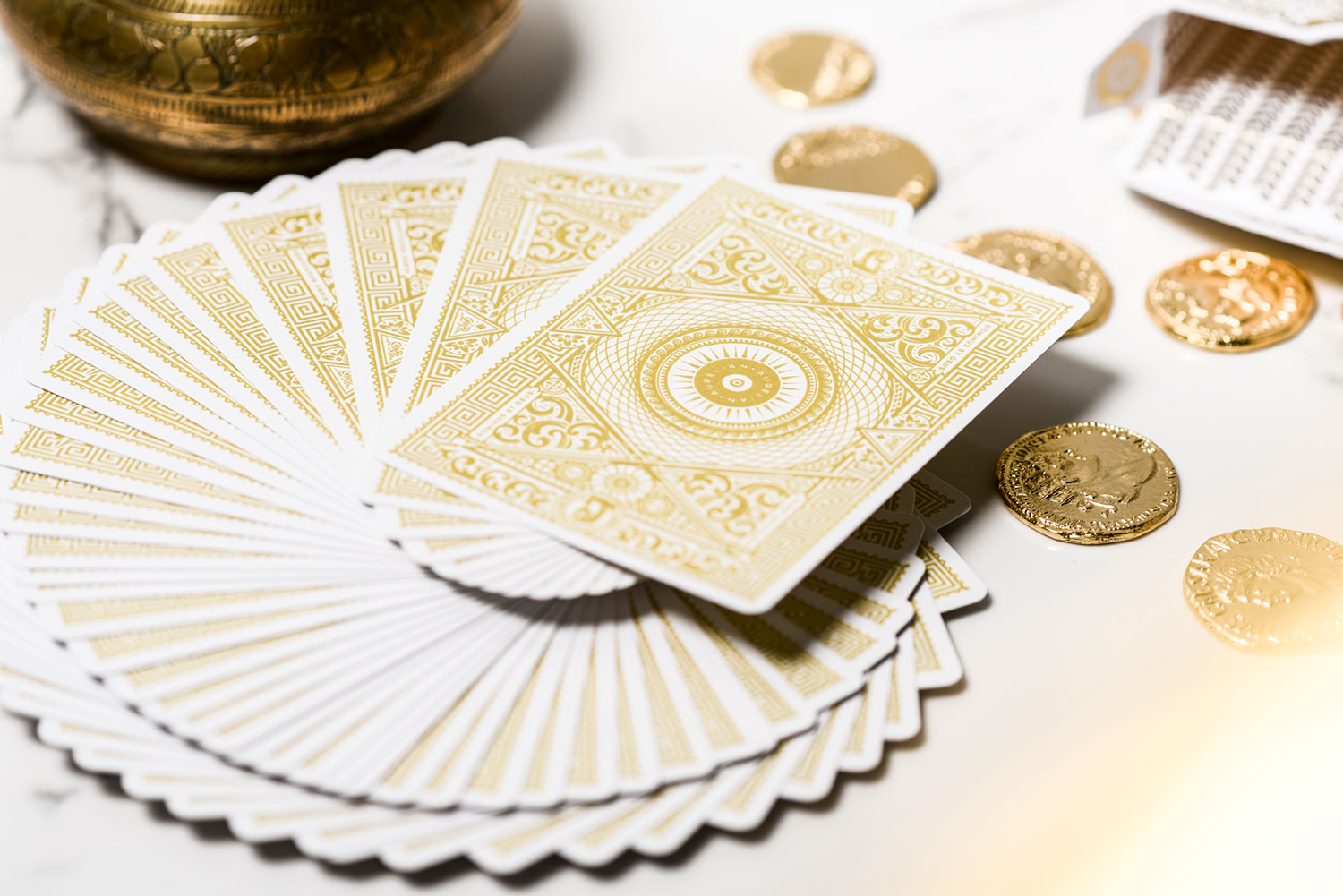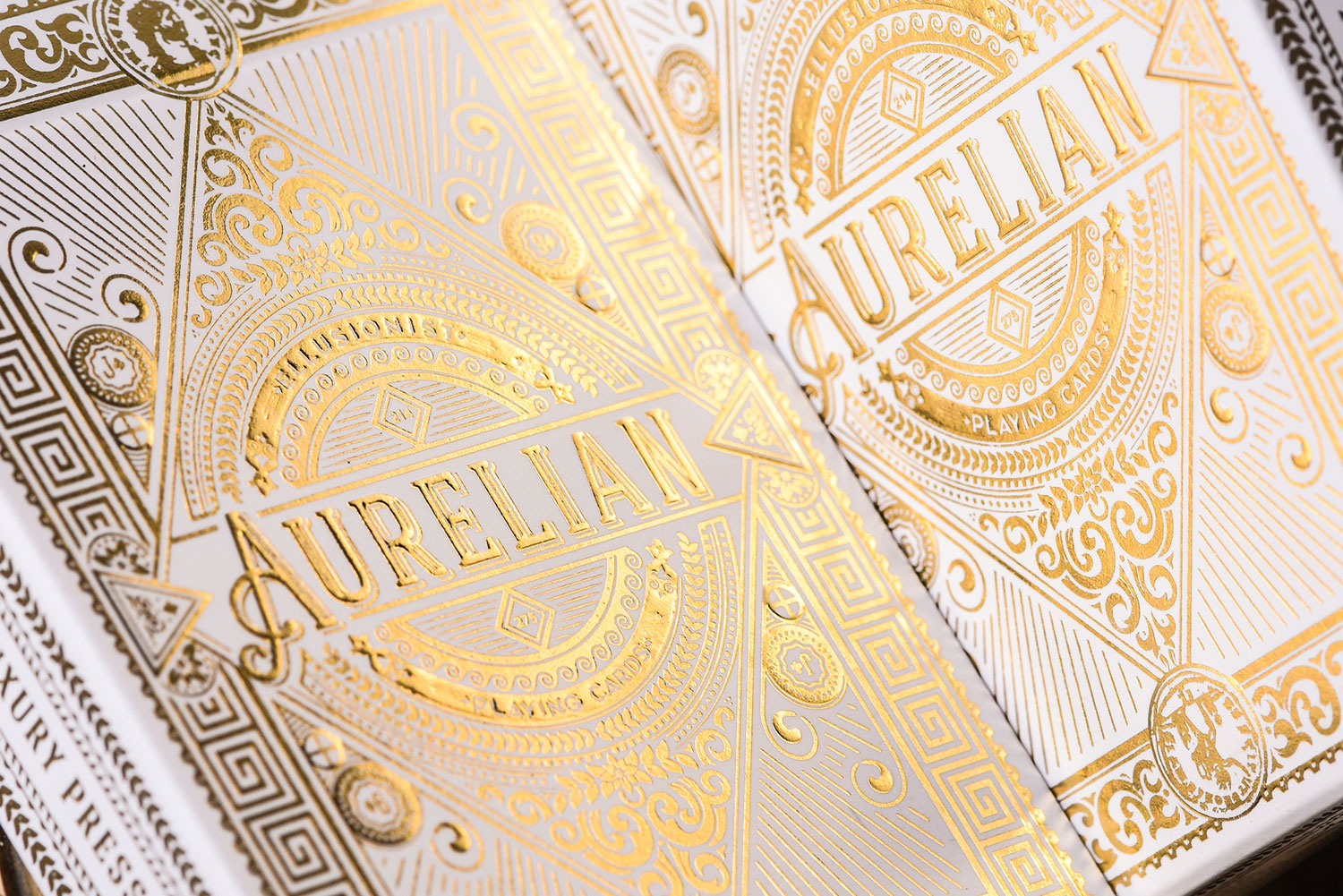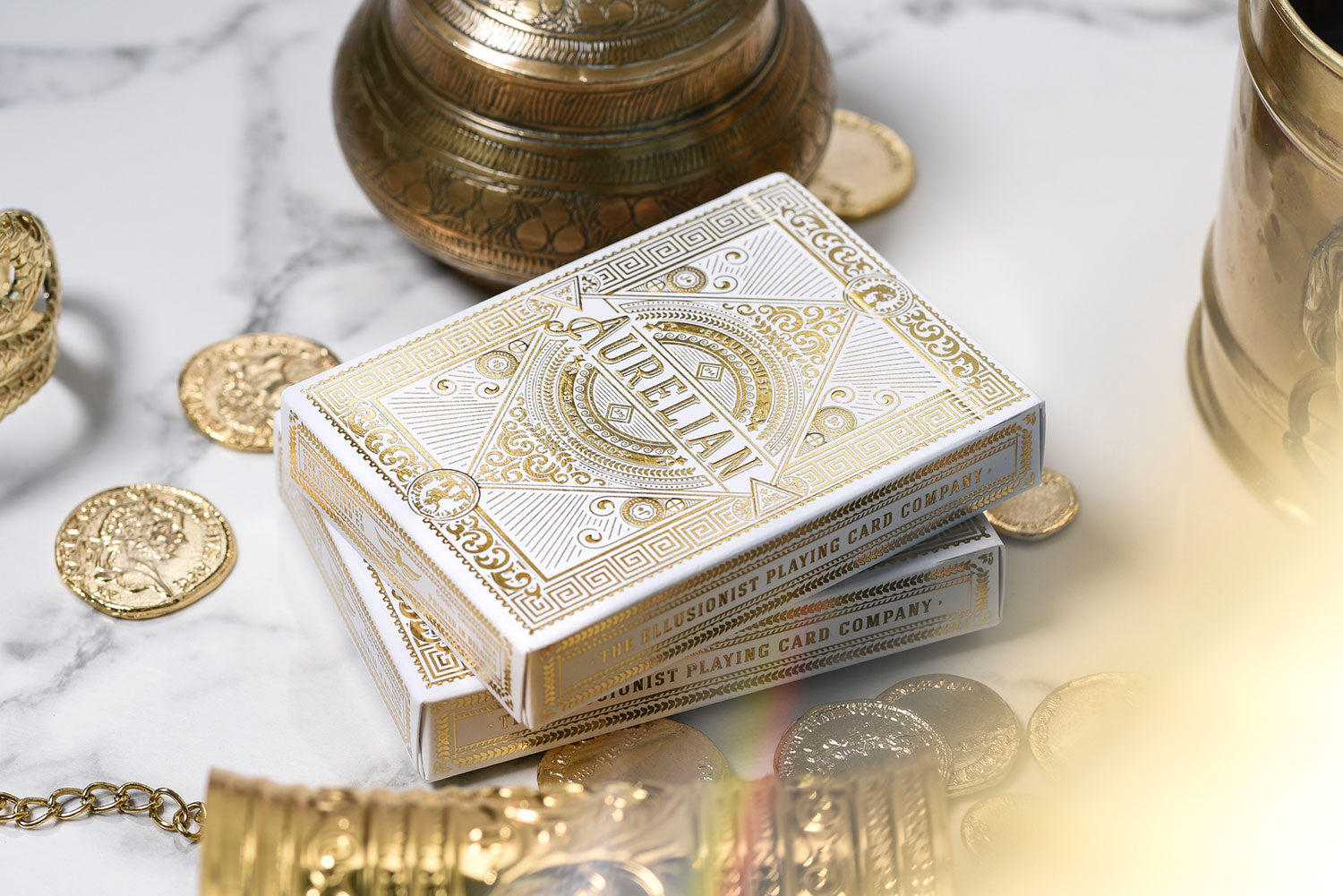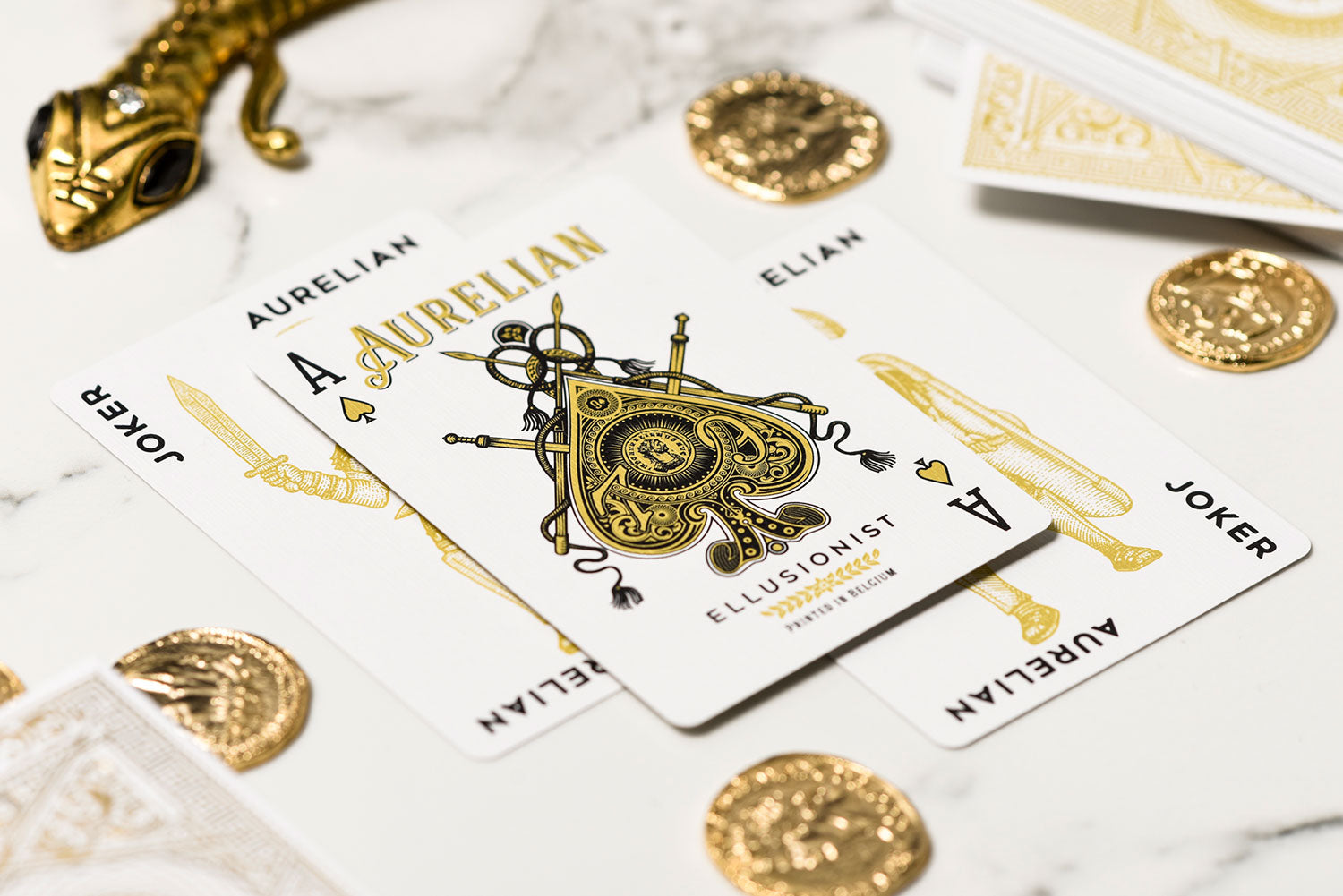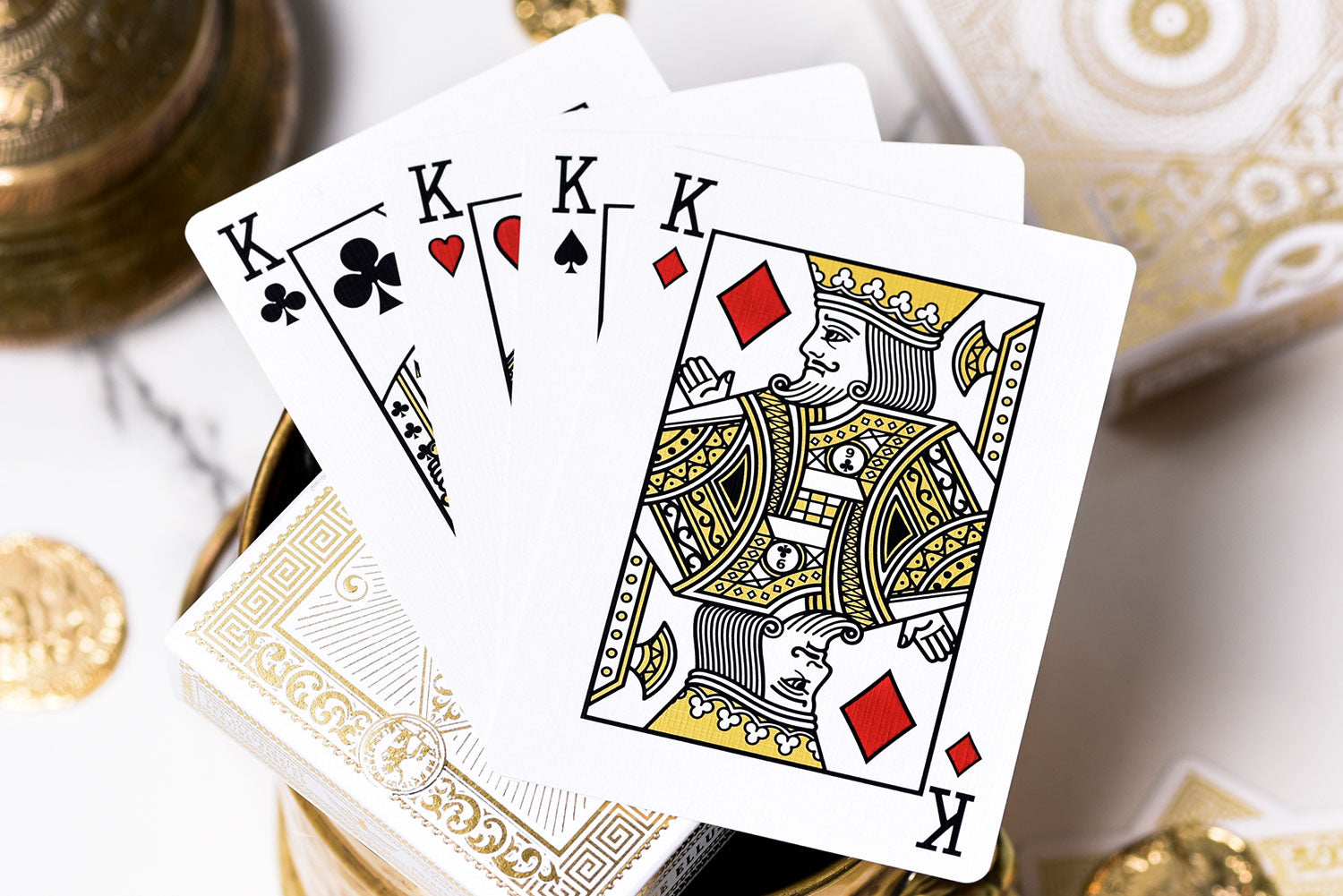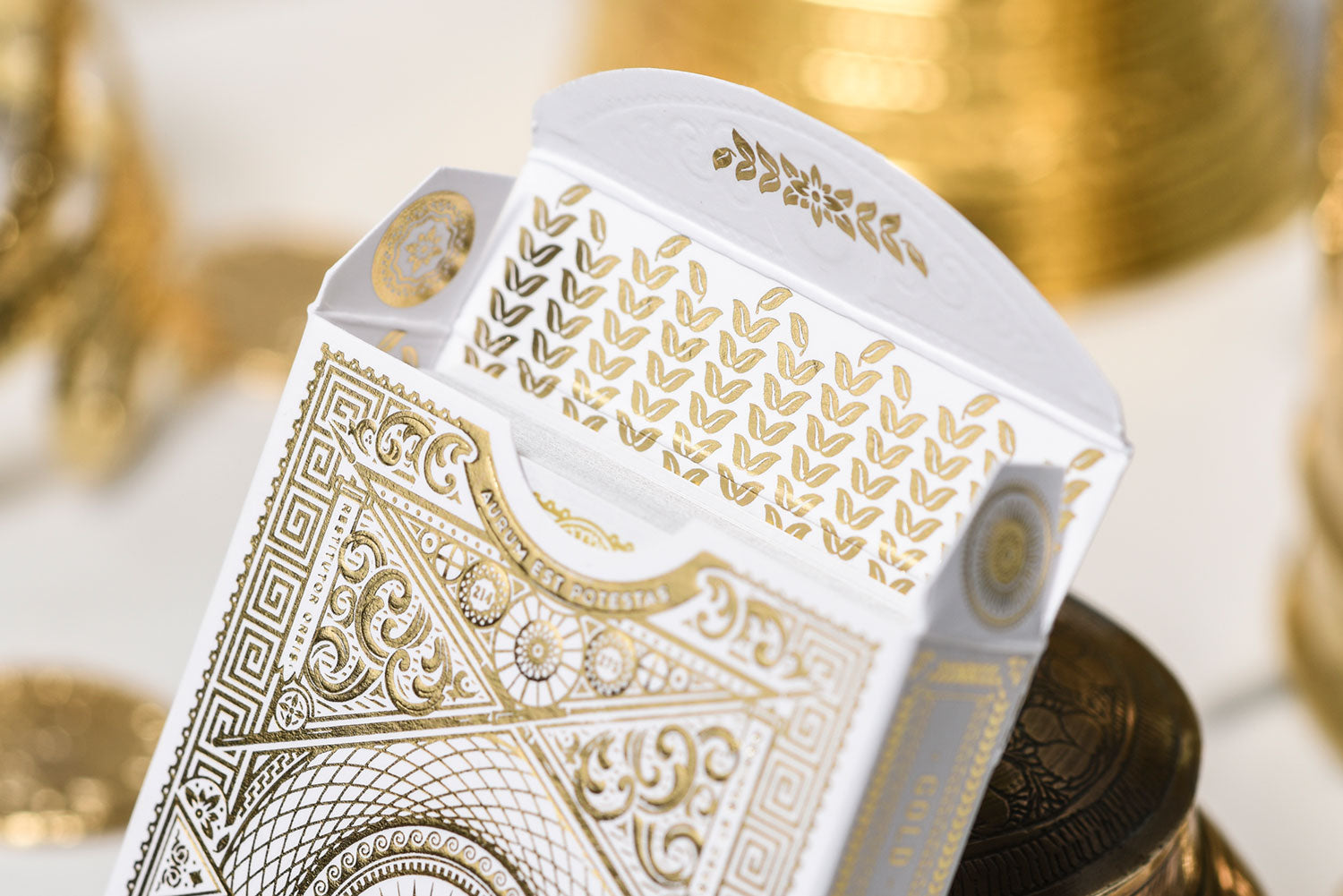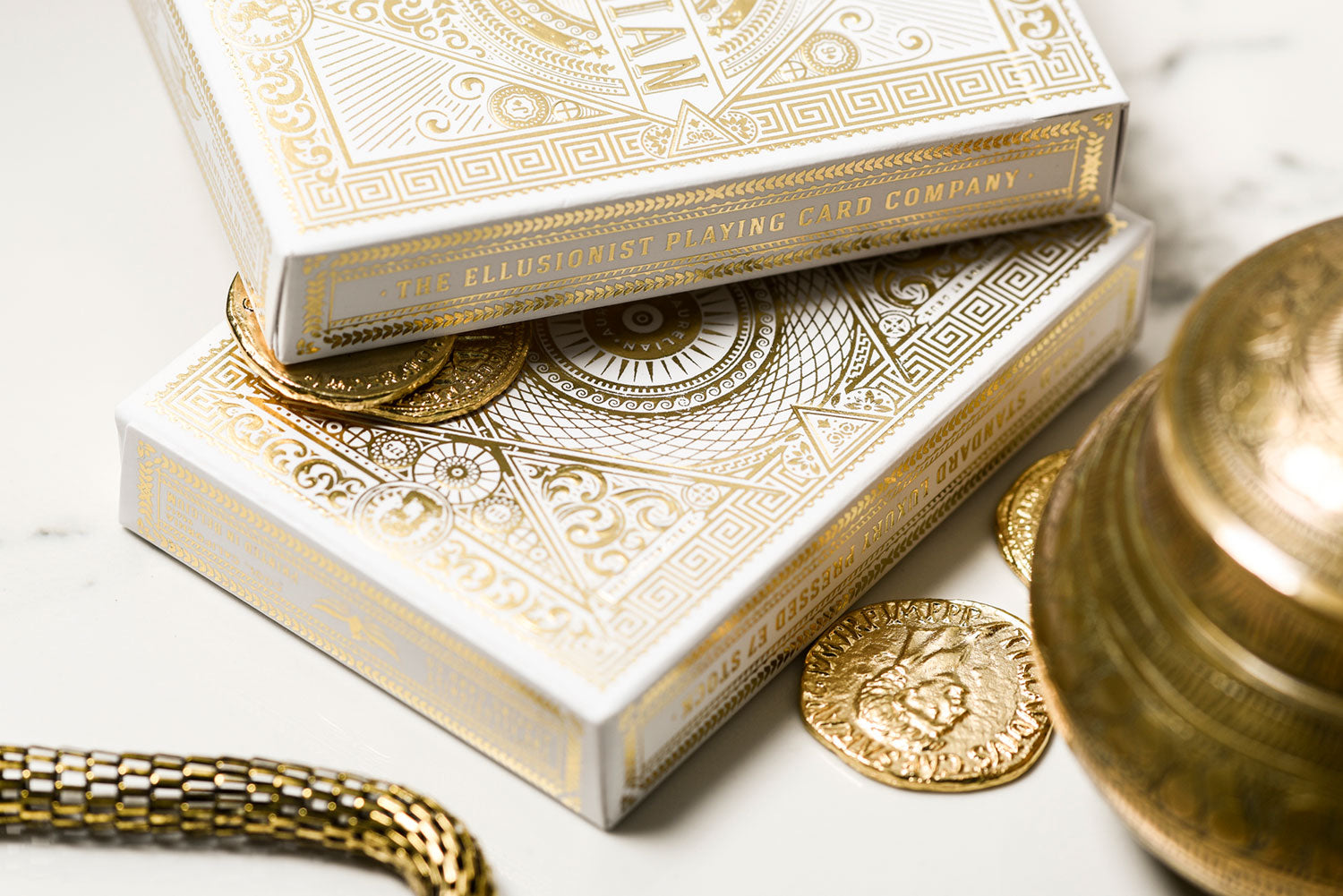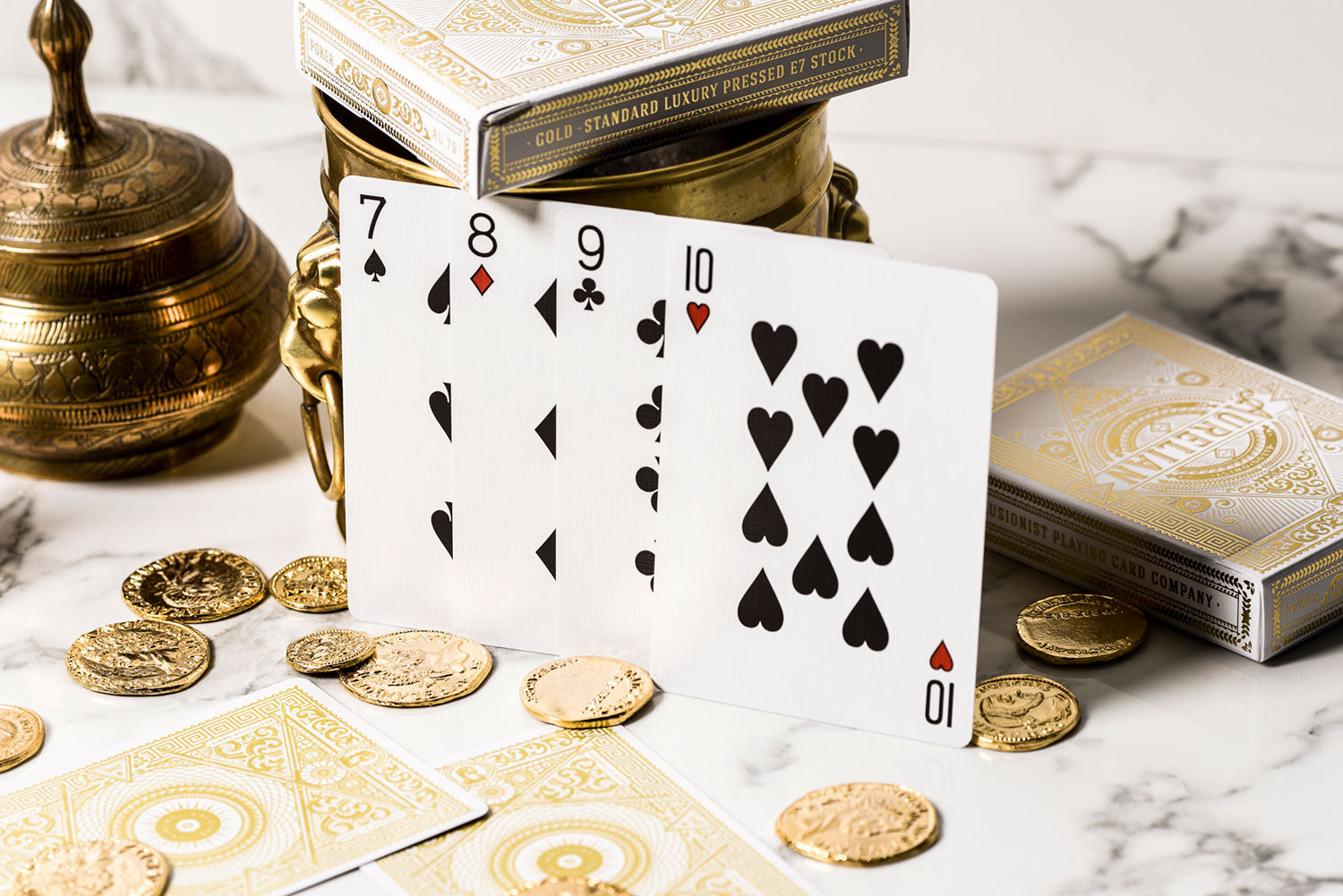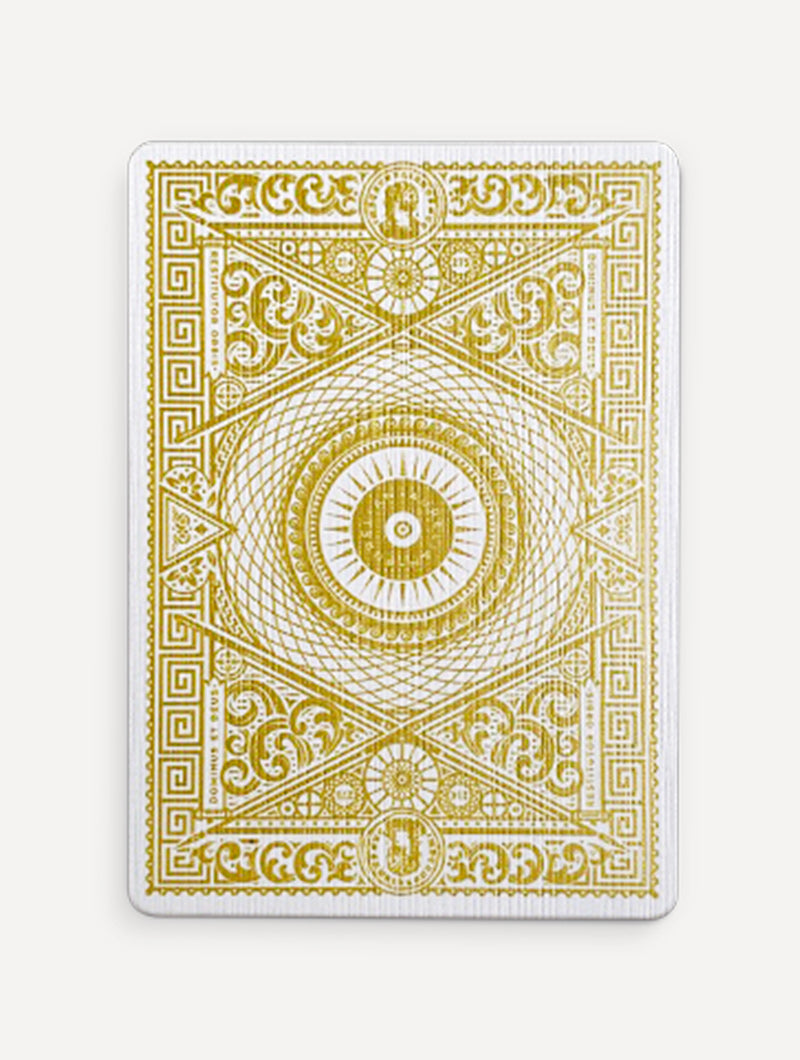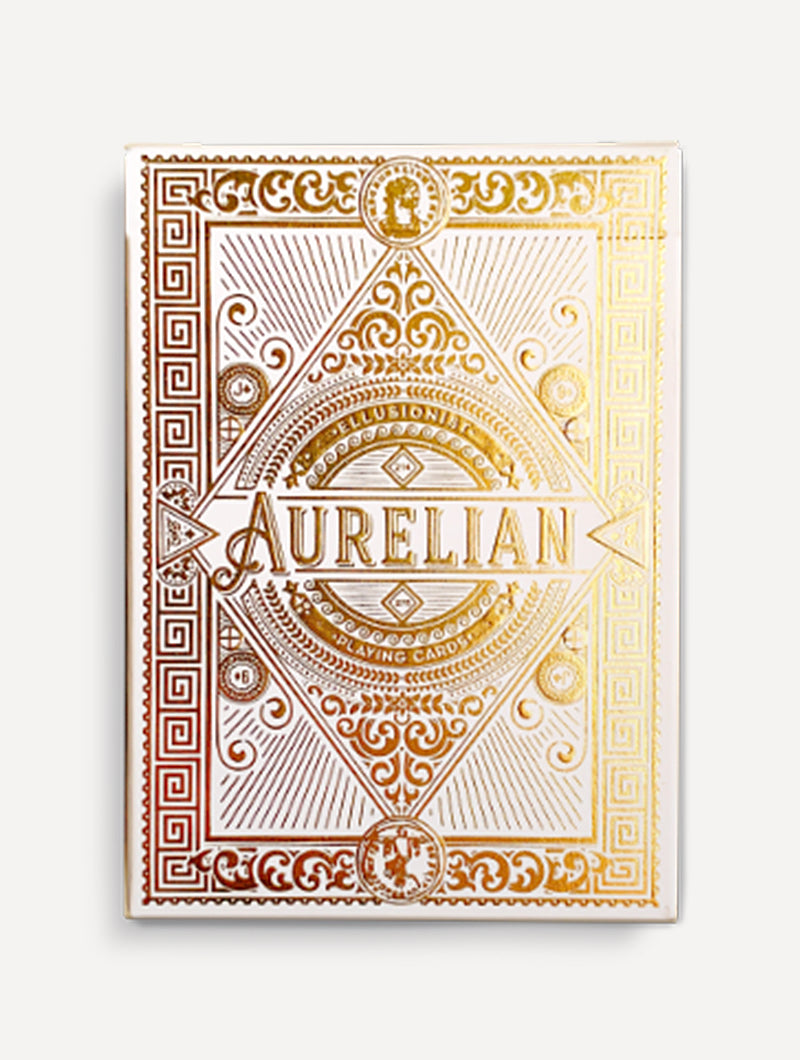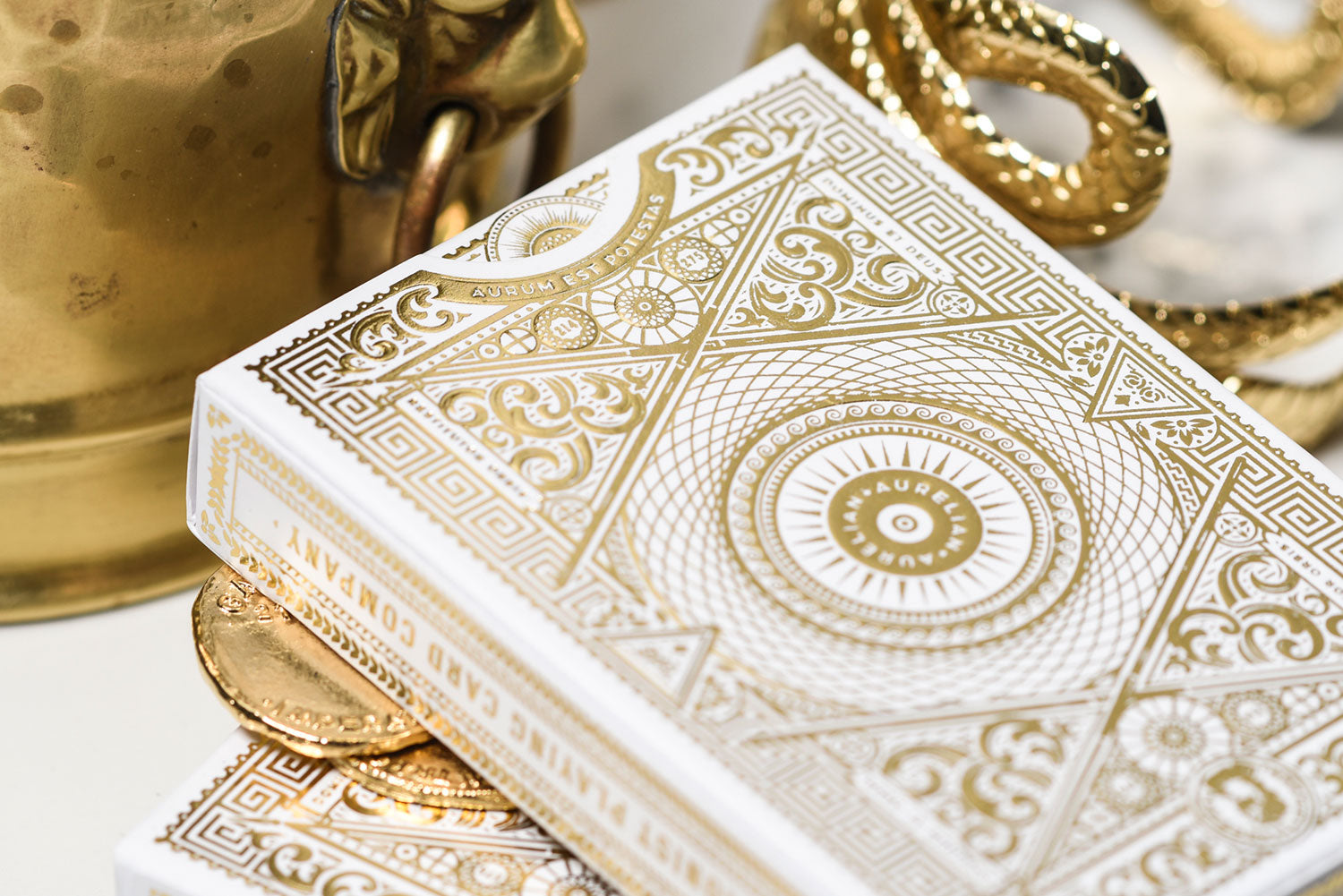 White Aurelians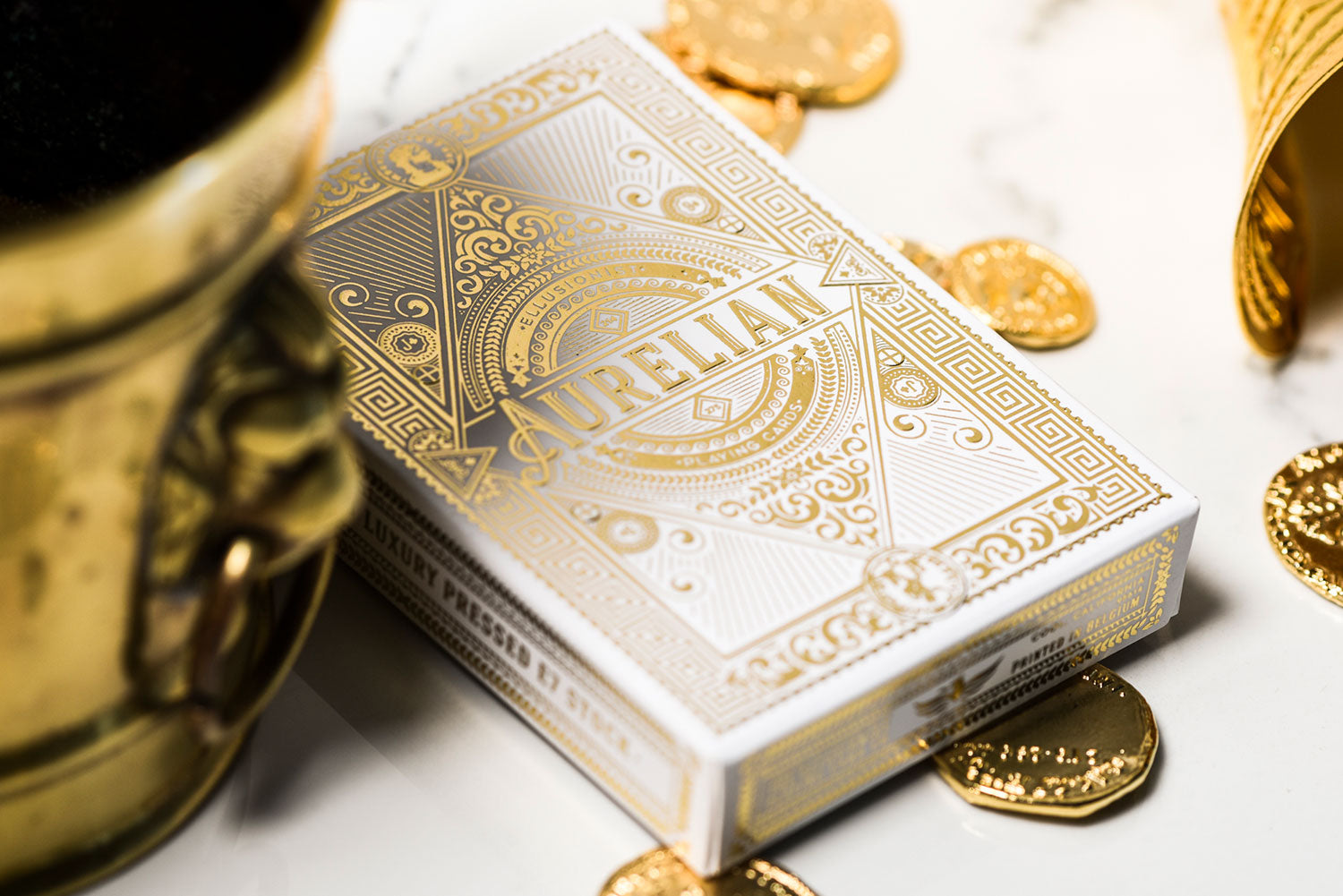 Based on the leader of the Roman Empire, Aurelians are the most detailed deck we've ever designed.
The premium box is coated in gold foil, leaking into multiple layers of embossing... Taking center stage above anything else that could fit in your pocket.
Inside the box you'll find gold oak leaf detailing that resembles the Emperor's Civic Crown.
The cards inside are smooth-cut and fully customized with deep detail.
Each fresh look uncovers a new secret.
Printed on Luxury-pressed E7 stock, we had to experiment with different weights of metallic ink to create this modern artifact.
Smooth, thin & oozing with class.
Get your Aurelians TODAY.
---
This product is rated 4.9 of 5.0 stars.
It has received 91 reviews.
Love them
I didn't use these as much as I wanted too. These cards looks awesome, love the gold and white. So I will definitely going to use them more!
Nice Cards
I really like the feel and look of these cards. The gold on white has a great appeal. I'm glad I got ahold of these while they were available!
White Aurelians
I am a beginner magician and I chose that beautiful deck for a start. I have also been looking at Chris Ramsay's YouTube channel and learned about the "Knights" deck, so I think that I know my next purchase will be. :D
White Aurelians Are Excellent Cards
White Aurelians are a sweet deck of cards. I prefer intricate cards over minimalist designs. I can tell that the crew that designed and manufactured the Aurelians took pride in their work and cared about the quality of their product. Beautiful backs, unique Jokers and card box that has several interesting patterns inside and out are a few of the high lights. Finally, the cards feel and handle great. I really glad I gave these a try. They're keepers.
Top 5!!!
Love the feel, the finish, design! Especially studying Greek and Roman culture these were must and handle so beautifully!! Very pretty to look and definitely catches some eyes. Just purchased 50 of these and couldn't be more proud!!
Lovely cards!
Beautiful deck, nice finish, and the cards handle well. I'd definitely buy these again.
White Aurelians, good set of cards
The White Aurelians deck from Ellusionist is a beautifully designed deck of playing cards. The cards feature a sleek white and gold color scheme that is both elegant and modern. The cards handle smoothly and are easy to shuffle, making them perfect for card tricks and games. The design of the cards is truly top-notch, and the attention to detail is impressive. Overall, I highly recommend the White Aurelians deck from Ellusionist for anyone looking for a high-quality, visually stunning deck of cards.
A beautiful gift
My husband loves to show off his cardistry skills and these are just so beautiful and mesmerizing as you watch. Beautiful in design, feel, and smooth manipulation. He absolutely loved them and the smile on his face when he opened the gift box was priceless.