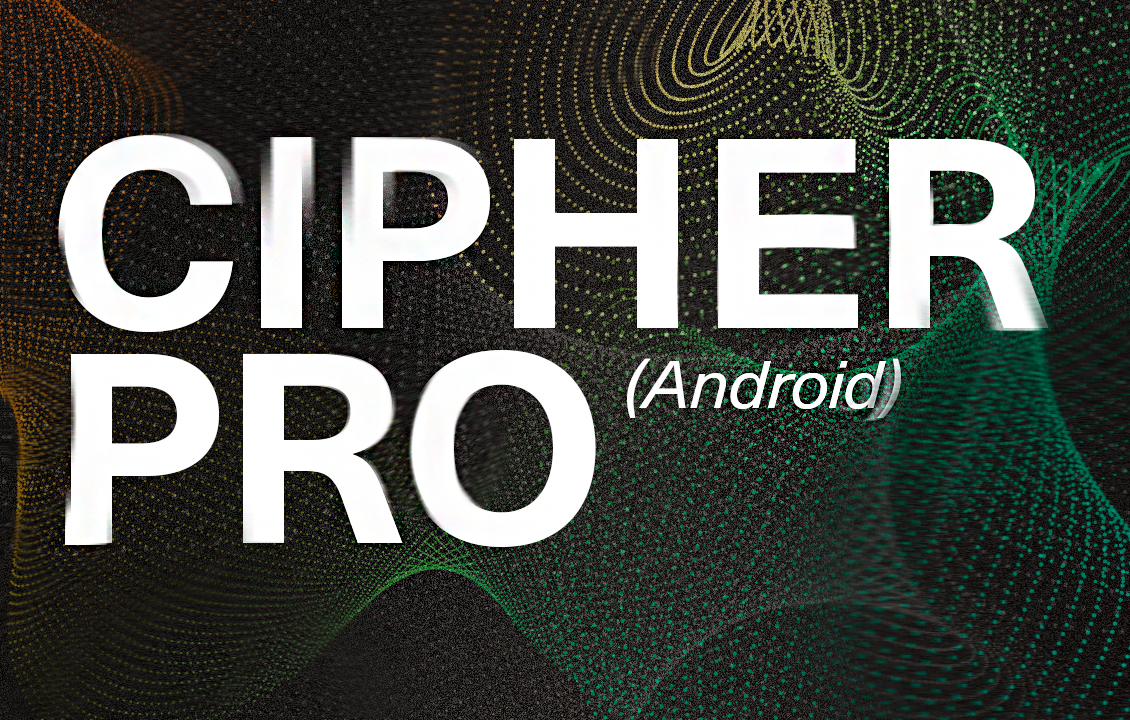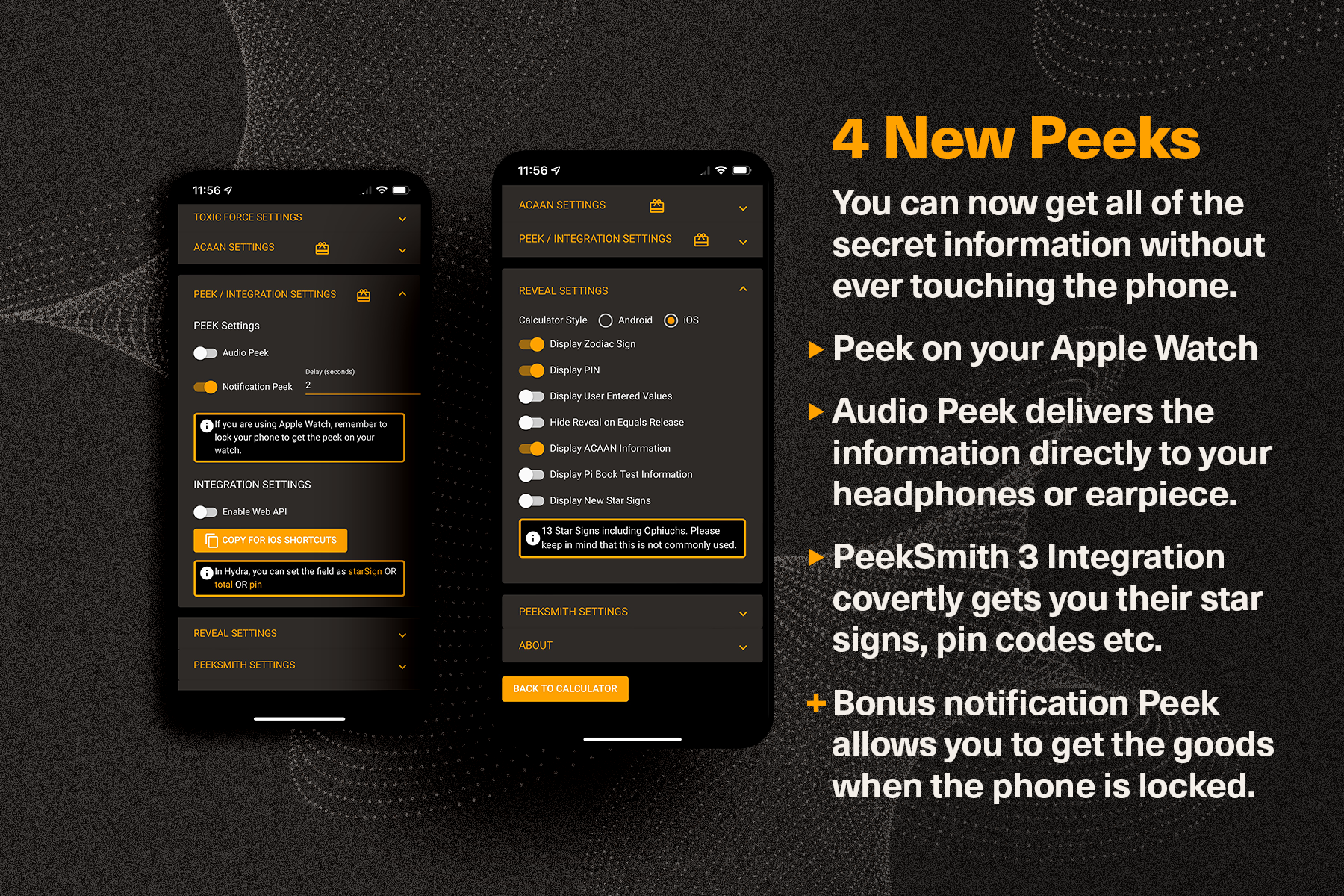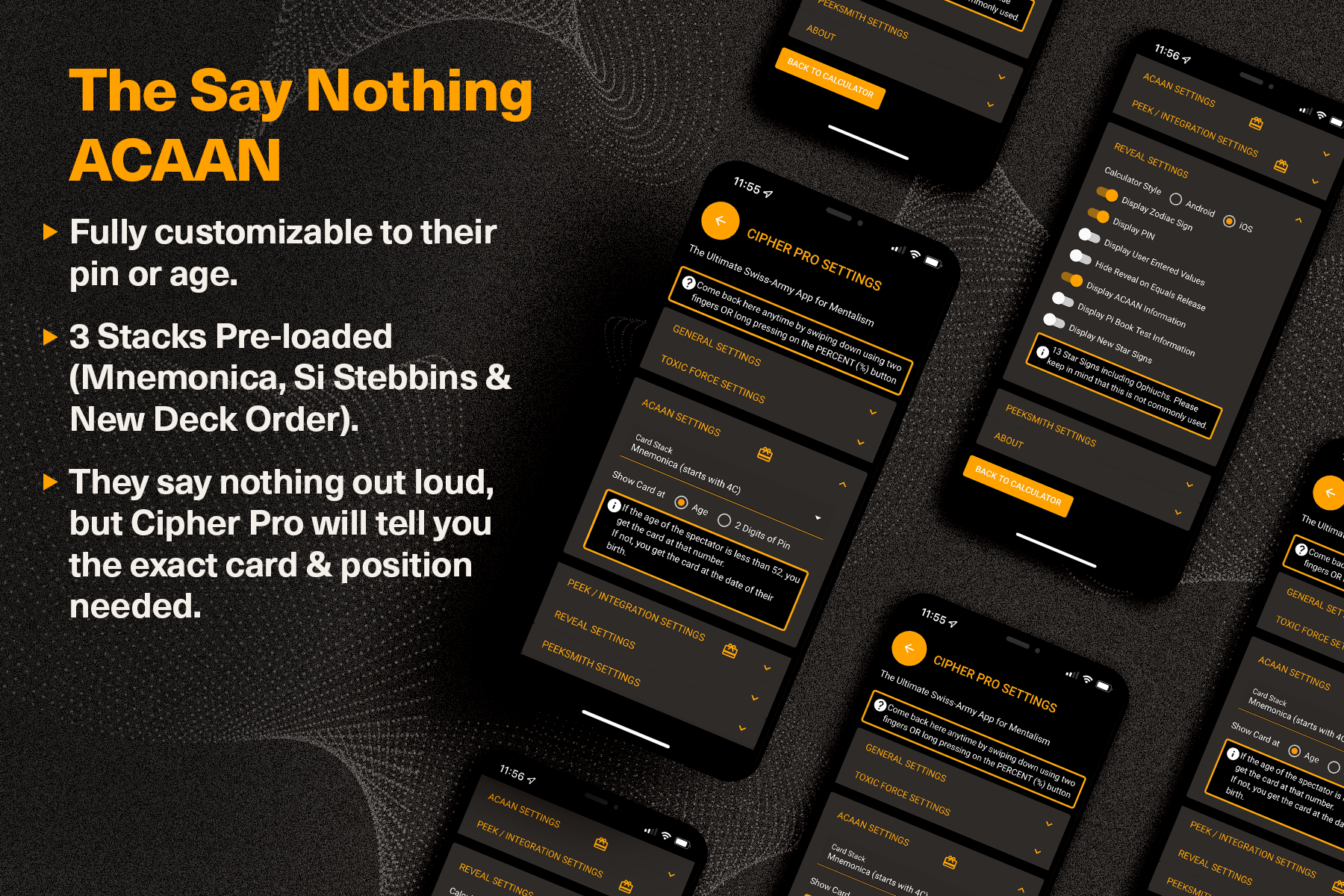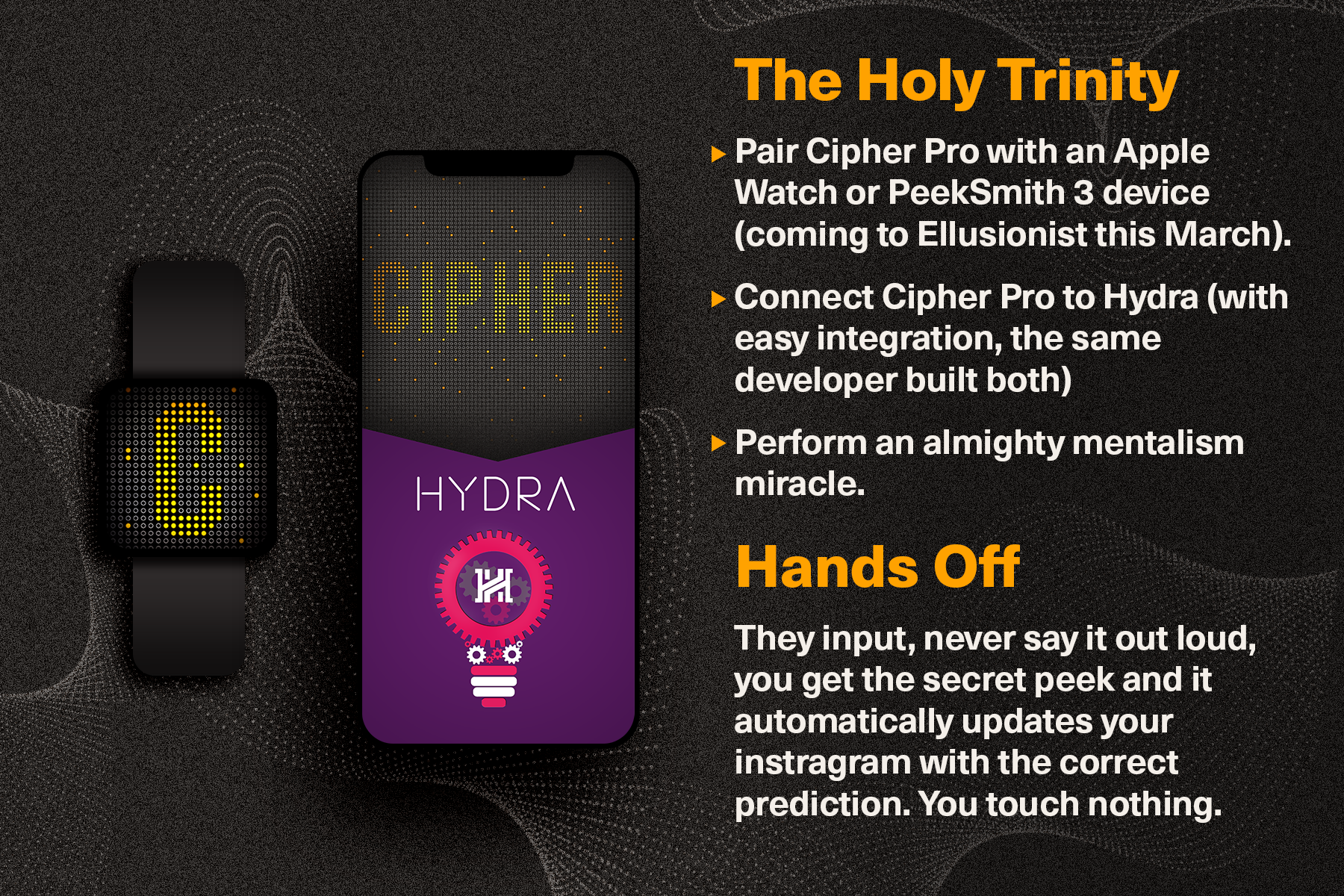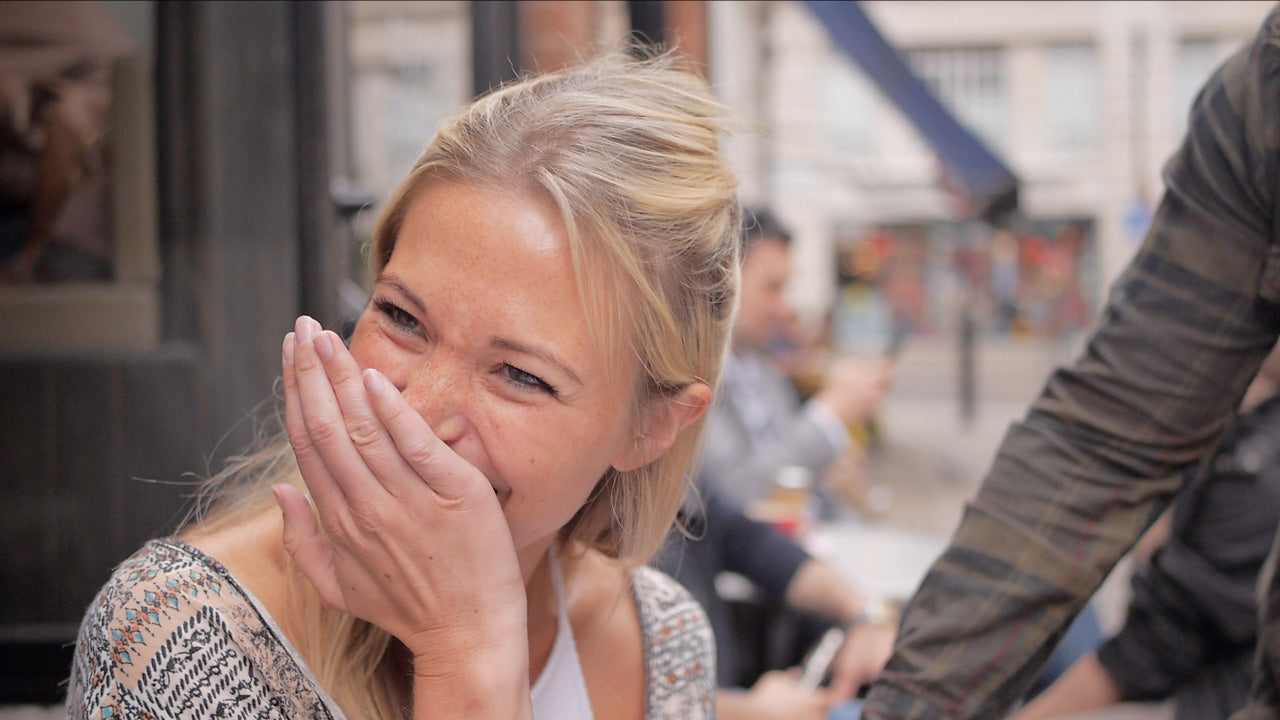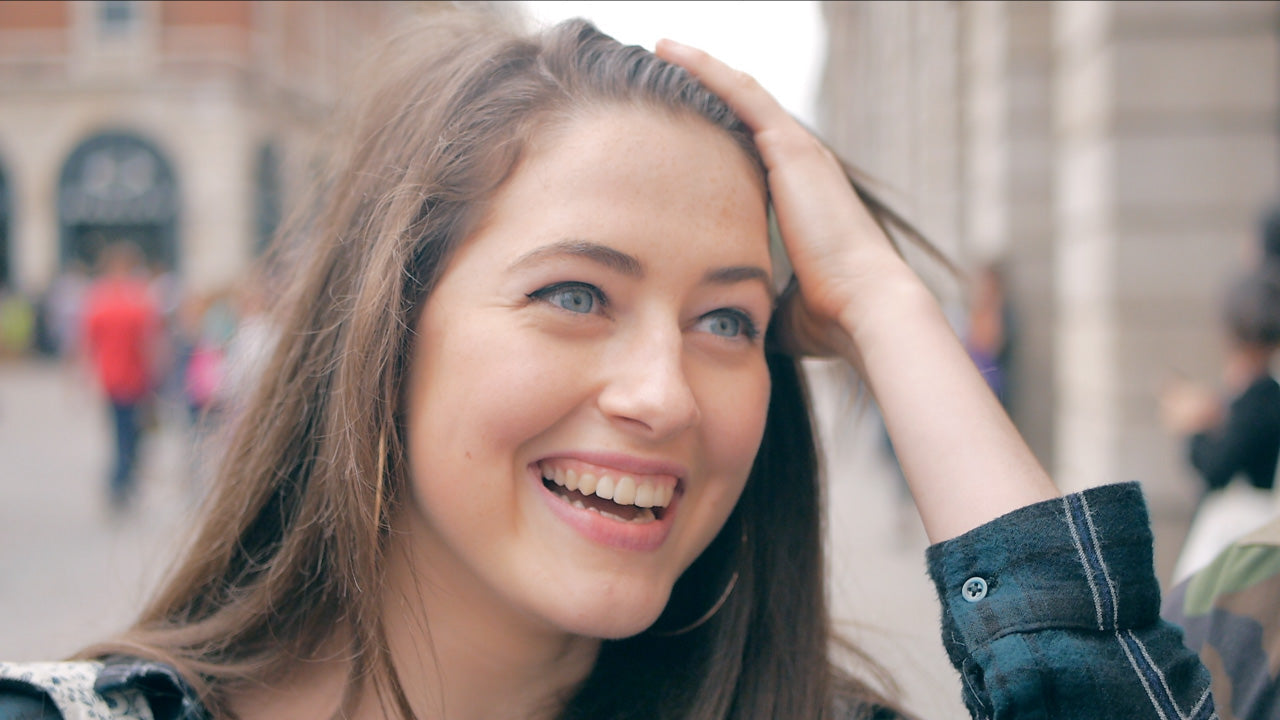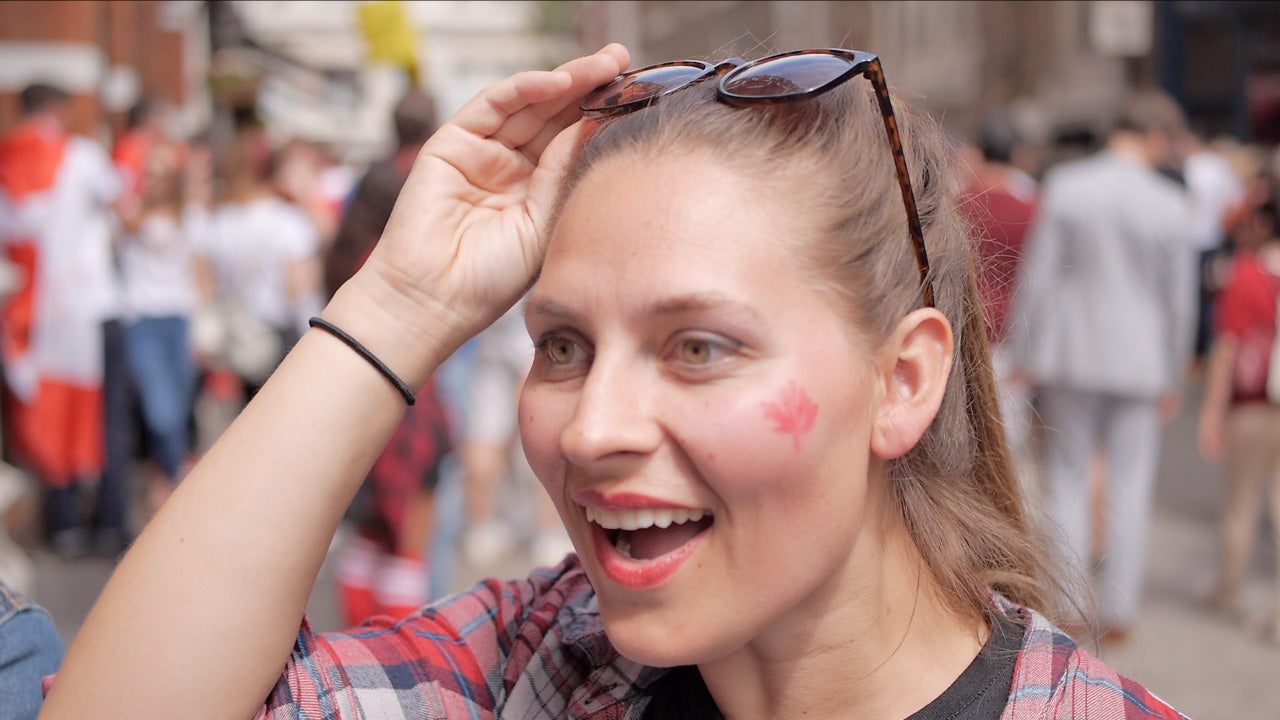 CIPHER PRO (Android)
*NEW* Cipher Pro is an essential, Swiss-army app for mentalism, hidden on your phone. It does everything that original Cipher did + WAY MORE functionality.
☑️ 4 New Peeks (including Apple Watch, PeekSmith 3, Audio Peek & Lock-screen Peek)
☑️ New 'Say Nothing' ACAAN effect built-in.
☑️ Integrates with your existing HYDRA app for a completely hands-off miracle.
Not on Android? Click here to purchase Cipher Pro specifically for iPhone/iOS.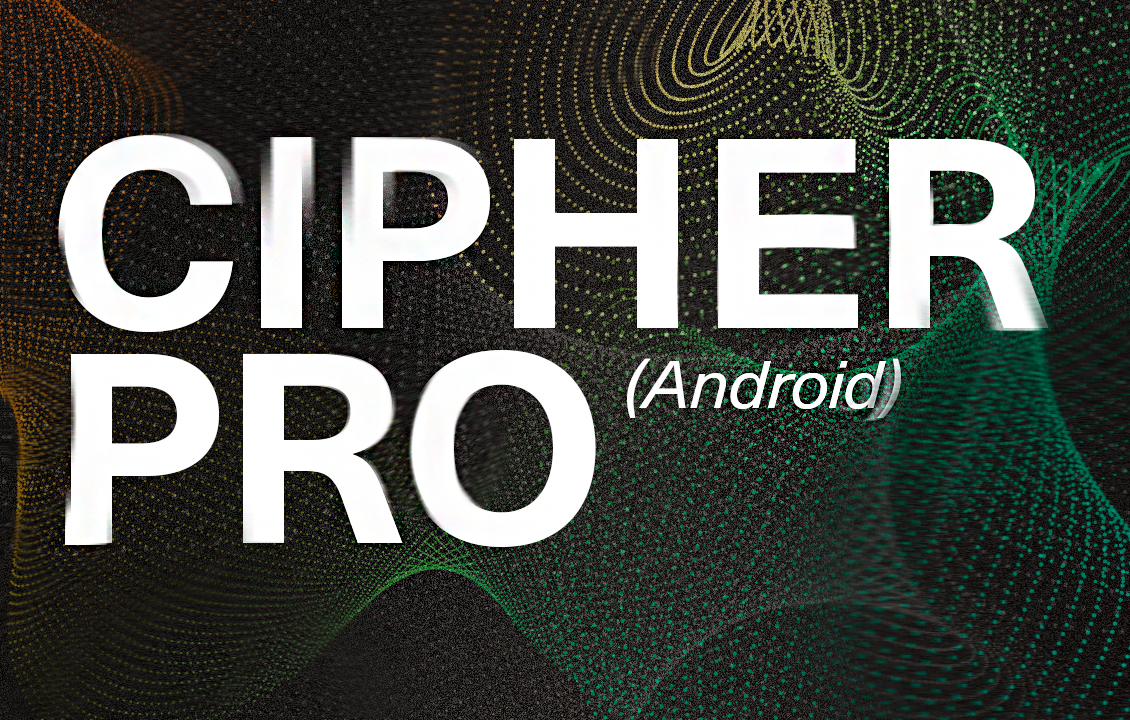 "Absolutely phenomenal..." 
- Michael Murray
---
*NEW* Cipher Pro is an essential, swiss-army app for mentalism, hidden on your phone.
It allows you to reveal:
Pin Codes
Star Signs
Birthdays
... Literally ANY Significant Numbers 
Undoubtedly the best mentalism effects you can perform are the classic Number Force, a pin reveal, and guessing a stranger's star sign.
This digital peek pad allows you to get all this information and more in one easy step. For the fairest performance imaginable.
No anagrams
No memory work
Instant Reset
What's
New

With Cipher Pro?

 With the new PRO features, you'll get 4 NEW PEEKS: 
Peek on your Apple Watch.

Audio Peek delivers the information directly to your headphones or earpiece.

PeekSmith 3 Integration covertly gets you their star signs, pin codes etc. (Which you can buy here.) 
+ Notification Peek allows you to get the goods when the phone is locked.
We've also added some KILLER ACAAN logic into the app:
Fully customizable position, to their pin or age.

3 popular stacks pre-loaded. (Mnemonica, Si Stebbins & New Deck Order)


They say nothing out loud, but Cipher Pro will secretly tell you the exact card & position needed for your favorite ACAAN. 



Plus the ability to combine methods for what we're calling  THE HOLY TRINITY: 
Pair Cipher Pro with an Apple Watch or PeekSmith 3 device (which you can buy here).
Connect Cipher Pro to the HYRDA app. (Really easy integration, the same developer built both)

Perform an almighty mentalism miracle. HANDS OFF. 
With this trinity combined, the spectator inputs their info, they never say it out loud, you get the secret peek and in real-time, the apps automatically update your real Instagram with the correct prediction.
You touch nothing.
I mean, c'mon! That's like... Untouchable when it comes to a routine. 
+ BONUS FUNCTION
You'll also be able to perform David Penn's Pi Revelations Book with Cipher Pro.
+ NO MORE RESETS
Cipher Pro is now a native iOS & Android app, not a 'web-app' like the original. This means you won't have to reset your license key multiple times. 
It's a one-time-only deal. Set it and forget it. 
---

Just purchased Cipher?
Any customers who have purchased original Cipher within the last 90 days - and who haven't installed new Cipher Pro by March 22nd 2022, can email support@ellusionist.com with their receipt for a full refund. This refund can only be granted after the 2-week pre-release discount has expired.
---
"They said the day would come when machines would overtake people - That day is today. This is fast and hard-hitting."
- Peter Turner
---
Created by Geraint Clarke & Lloyd Barnes; this incredible tool will elevate your mentalism with an organic prop you have on you at all times... your phone.
Perform any time, anywhere as one jaw-dropping routine, or use this to get multiple steps ahead of your spectator.
The best-kept secret on Team E is now yours.
Download Cipher Pro.
NOTE: Don't use Android? Click here to get the iPhone/iOS version of this app.
---
LEGENDARY SUPPORT 

Since Mid-2020, we've connected with Shameer Salim, the creator of HYDRA, a powerful prediction app.

Shameer has legendary support. Everyone who owns HYDRA knows it and raves about it in the reviews.

His knowledge and ability far surpasses anything we've been able to offer before - so we feel confident that customers of Cipher Pro will be efficiently supported.

Just remember, to report a concern, please email support@ellusionist.com - and wait for a response. Shameer is too busy coding to answer every direct message through social media or email. But Ellusionist will work with users to collate and inform Shameer of any concerns as soon as they cross our desk.
 

This product is rated 4.9 of 5.0 stars.
It has received 49 reviews.
Cipher is fun
This is a great app to have as a back up. Happy it's a part of my EDC now.
Calculated Miracles via a Calculator
Delighted with Cipher Pro, this allows for heavy duty number and information divinitation effects along with Predictions and Forces. The Calculator looks exactly like my Android Calculator and hides in plain sight. You can even let the spectator click the calculator icon to open and start this.
Under performance condictions, the App does all the heavy lifting allowing you to concentrate on your presentation. I use this in conjunction with a Smart Watch which takes this to another level and do a complete sight unseen presentation.
I am also contemplating using with Hydra to drive impossible predictions on social media.
CIPHER PRO (Android)
Soooo good! It was so good my mum thought I could really win the lottery soon!
Amazing
A really good trick that can amaze everyone
Cipher
Thanks ellusionist for this app. Perfect for mentalism effect and very customisable.
Fantastic
One of the best apps I've ever purchased. You could just reveal all the info and get a great reaction but if you do any readings, palm readings, tarot or anything else, it will make this much much stronger
Cipher. Perfect app,
It's a perfect app, simple but yet highly customisable! Well recommended
Great product not just for mentalism.
This is actually better than the trailer let's on! It's a very powerful, hidden in plain sight tool for secretly peeking birthdate, age, zodiac sign, and a force. Force any number without touching the phone yourself. Very cool product.
The Mentalism App
You need numbers from your spectators brain? Cipher got you. You need a toxic force? Cipher got you. You need an any card at any number effect? Cipher got you. This app allows you to tell your spectator their date of birth, starsign, pin code and whatever number you want. Its the only app a mentalist would ever need and you can perform absolutly mindblowing miracles with it