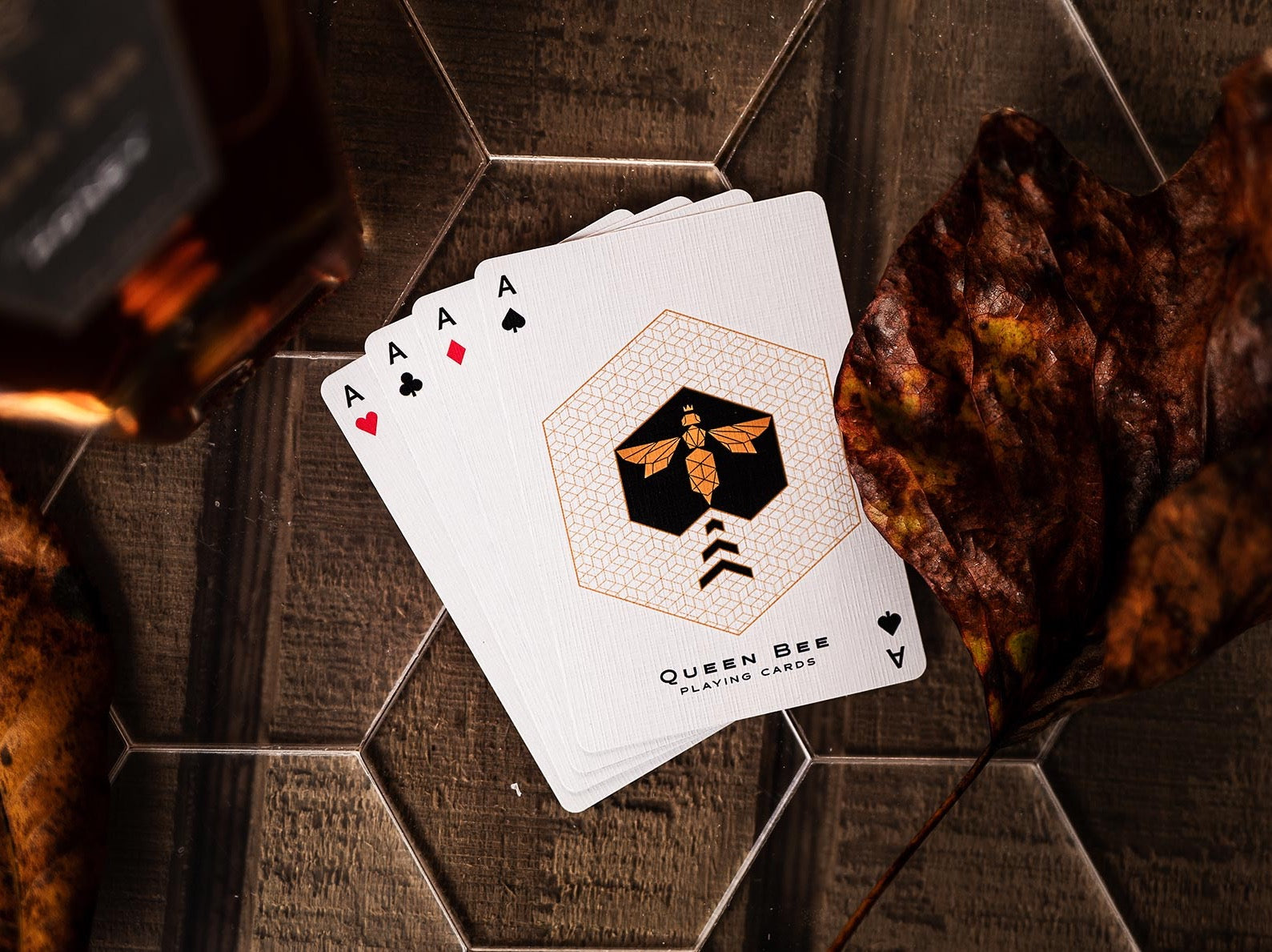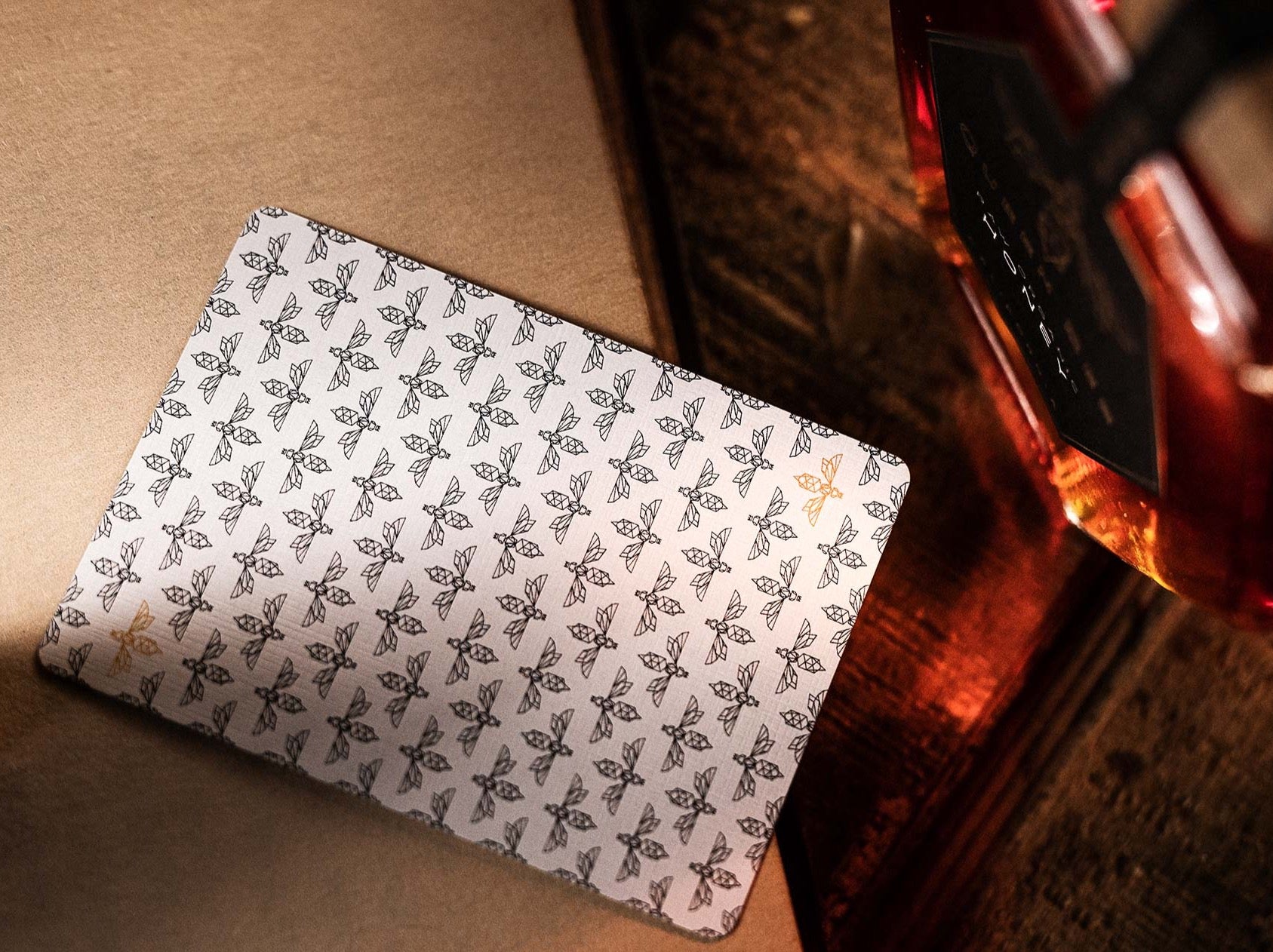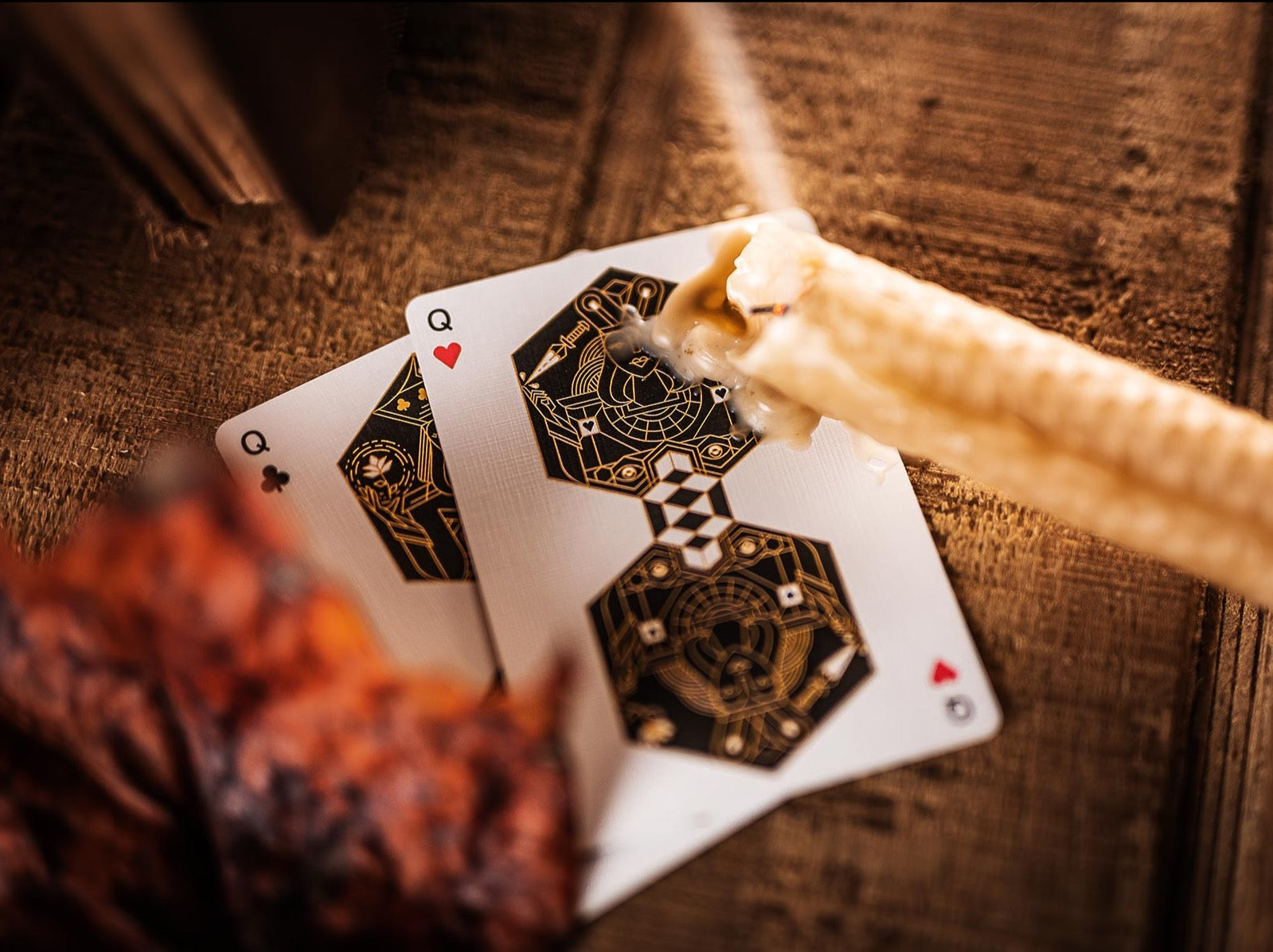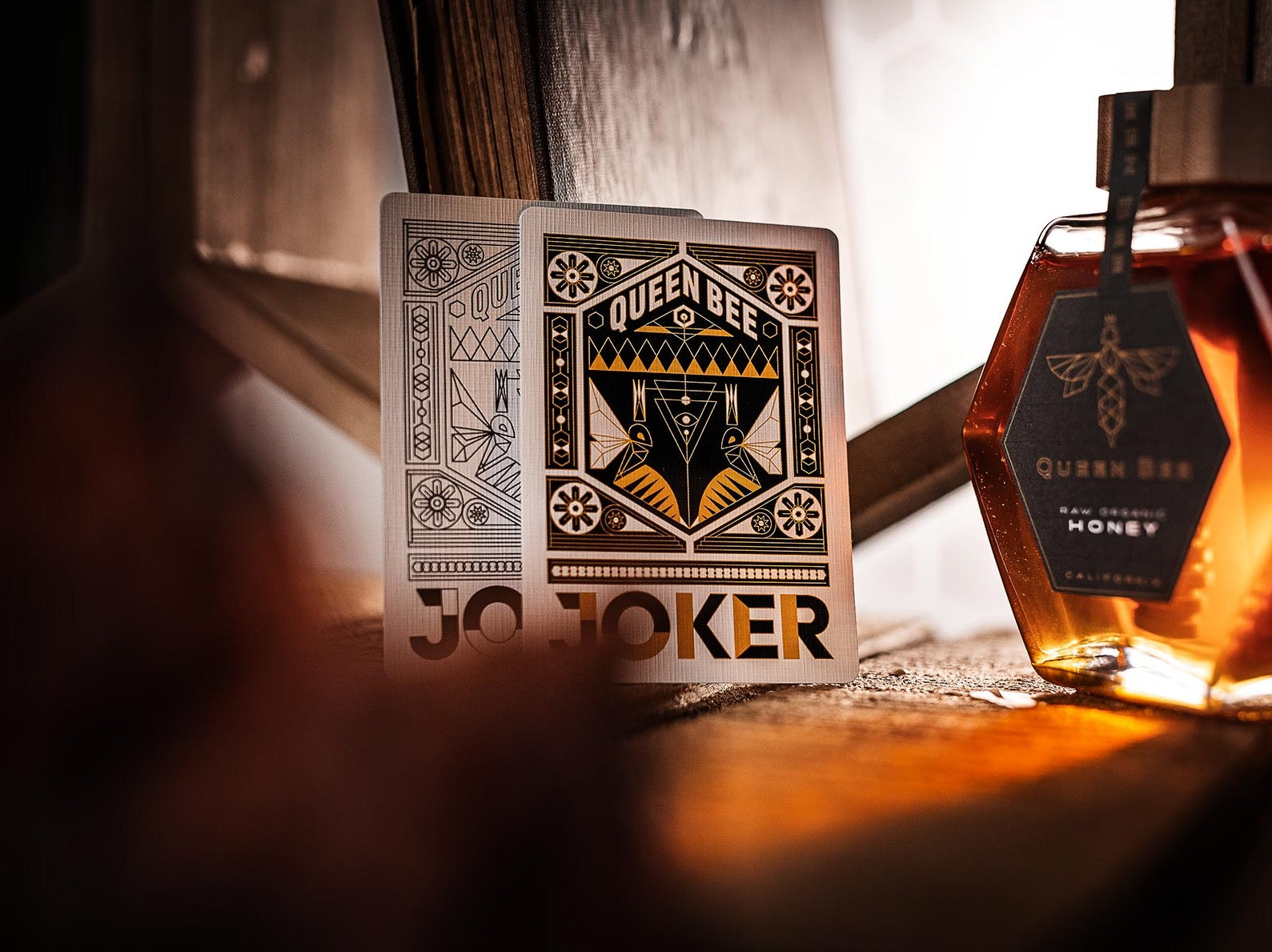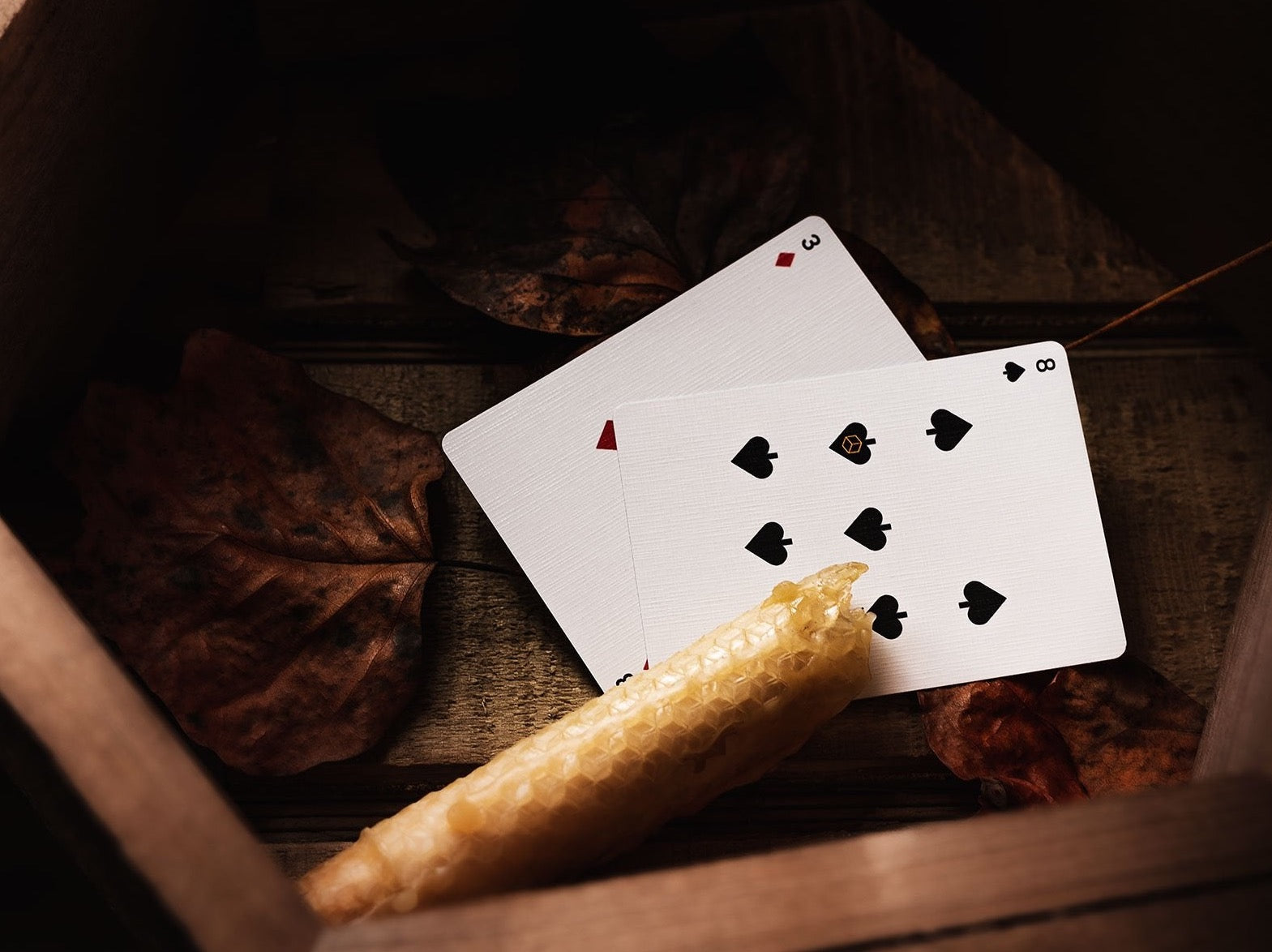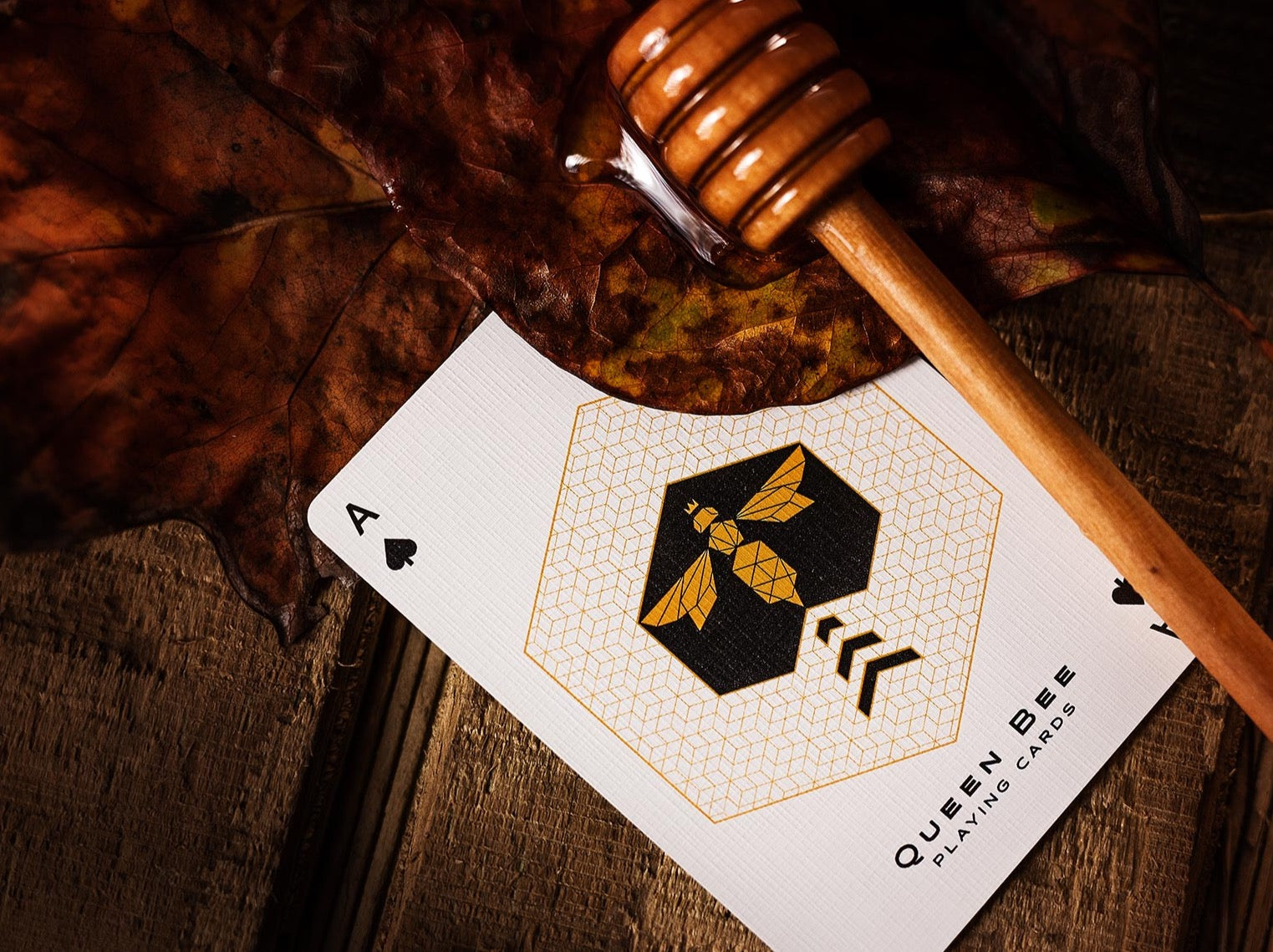 Queen Bee Reloads
Buy 12 Decks & Get 50% OFF Automatically.
Any decks. Mix & Match. You're welcome.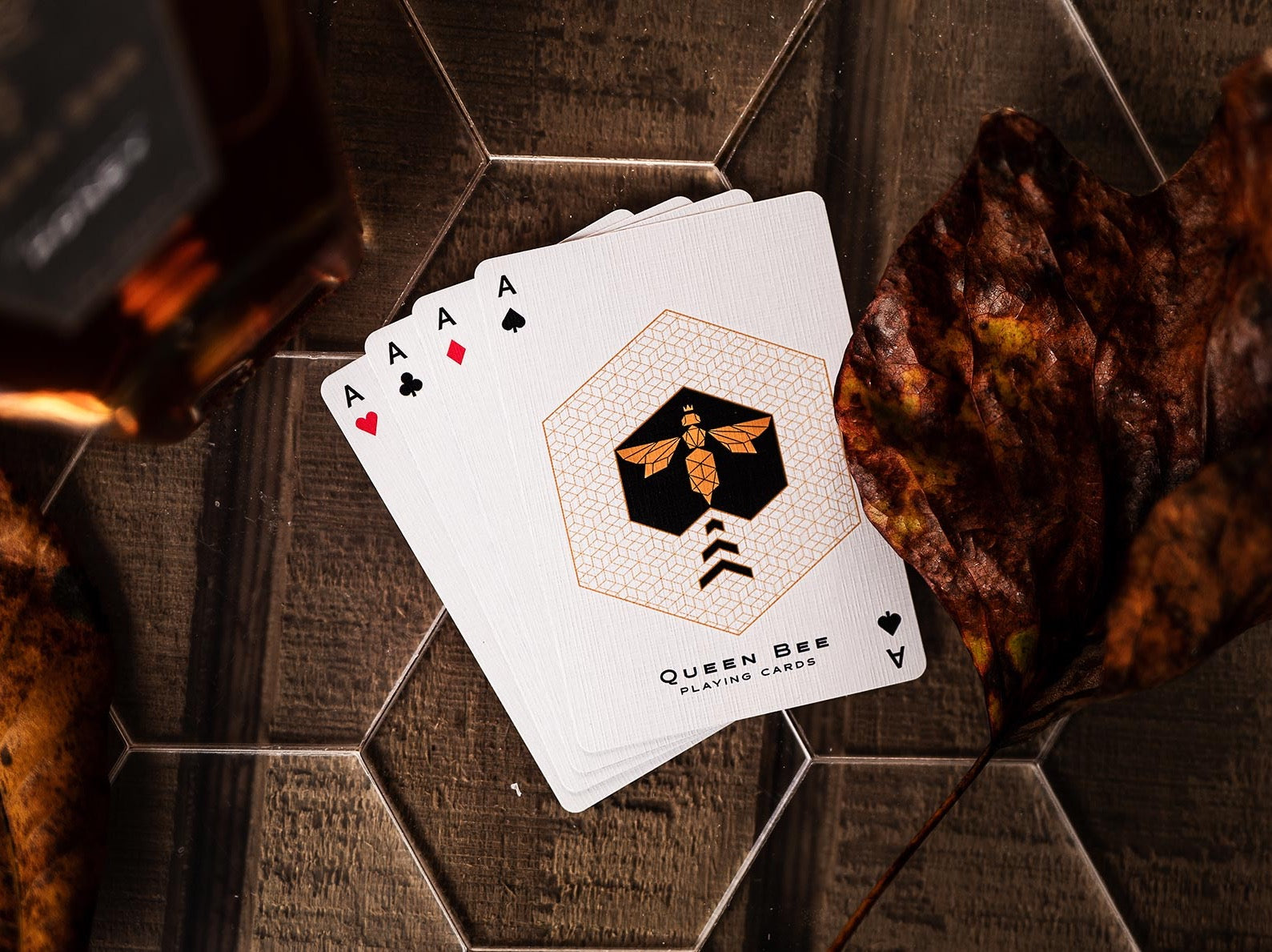 Please note: These decks do not come with a box, hence the name 'reloads'. You reload them into a box you already own.
The Queen Bee is the matriarch of the hive. Worshipped by the entire colony and fiercely protected.
After making hugely popular Killer Bee and Super Bee designs in the past, we knew there was only one more level that remained unexplored... The revered monarch herself - the Queen Bee. 
Unlike our Killer and Super Bee decks, which feature a faint white halo around the deck's edge - Queen Bees have no border. The Queens spill over the edge in their glorious abundance.
The design is a classic of borderless decks, repeating into infinity with bees that fly in opposing directions. 
There is but one break in this rule, the yellow bee that stands out in the top left and top right corner. It accents the design and creates a focal point for your eyes. 
This little splash of yellow in a sea of black looks stunning in fans and spreads, allowing the minimal design to feel more 3-dimensional. 
The white faces display custom pips that hold a sinister simplicity. 
Each pip is arranged in a completely custom way, with a hidden hive represented in 1 pip of each number card.
This subtle hint is to compliment the Queen's geometric styling. 
Each court card is custom, with connecting hexagons encasing an effeminate design, like honey trapped within a single cell of the honeycomb. 
The lines are thin and sleek but the aura for each court card is instantly recognizable. 

Ellusionist was one of the first major producers to start printing with Cartamundi in Belgium. 
During that initial courtship, we asked for only one thing. A slimmer, durable stock to match their already superior printing techniques. 
They worked hard to create E7 stock and it was launched with our Blue Cohorts playing cards 2 years ago. The deck credited by many, for switching their allegiance from USPCC to Cartamundi decks. 
Queen Bees have this very same stock, the stock we believe is the best for magic, gambling, and card handling in general. Nothing feels better.  
Why do we need Bees?
2019 saw the highest loss of Bee colonies ever recorded. 
Over 40% - gone. 
To think that this doesn't affect you is wrong. Honey bees alone pollinate $15 billion of the food we eat in the United States each year. They are vital to our survival. 
Aggressive farming techniques and a reliance on devastating pesticides have been decimating the bee population all over the world, causing CCD (colony collapse disorder). Whole hives are annihilated almost instantly.
Our passion for bees has led us to create this Queen Bee project. We hope that this deck of cards can bring widespread awareness to these majestic insects. 
Ellusionist will donate 10% of the profits from each deck sold to the fight for the Bee's survival. 
This product is rated 5.0 of 5.0 stars.
It has received 28 reviews.
practice cards
I thought for that money i get enough practicecards for a while and to my surprise they handle pretty well.
A day 1 fan
Honestly I've been a long time fan of ellusionist and every purchase is a good purchase. Especially this one because it was so cheap!
Reloads
The cards are great and for the price they are a great bargain. Buy a couple plastic cases and your set. I think they are better than bicycle ( sorry to all you diehard card people) and cheaper , plus not many trucks require a case. I will be looking for more.
Queen Bee Cards are 🔥
Easily one of my top favorite decks, between the poly metric bees on the back design to the custom faces and choice of crushed stock these cards handle amazing from day 1 and I'm super impressed🙏🏼
The Bees
Excellent handling, buttery feeling, thin yet snappy.
But, imo, the designer, in the zeal to be different, has gone overboard. The numbers are tiny, the pips are scattered all around, and you will need a microscope to differentiate between the court cards.
I love the bees
I was spoiled as these there my first cards I bought for magic. A+ to these amazing cards. And the bees. Bless the bees!
Queen Bee Reloads deck
That's an amazing deck, soon I'll add it to my deck collection.
Beautiful cards
The cards look and feel great. I love the design and that every card is a little different. I for sure will be using these
Queen Bee Reloads -- WOW!
Just got my FIRST order of Queen Bee Reloads and WOW is the best word to sum up my feelings. They handle like the best and most expensive stuff in my collection and fan better than anything else I have even purchased. A lot of times when I do shows, I like to leave a deck or two and at this price, it is a no brainer, but I like the deck so much, I don't really want to.
Excellent deck, just needs a box
It is an excellent deck, smooth, barely makes a noise when springing them faros lije butter. The pips are a bit small and it doesn't come with a box.